Alice Cooper's annual Rock & Roll Golf Classic to benefit Solid Rock and The Rock Teen Center took place earlier this week at the Las Sendas Golf Club in Mesa, AZ. There was a Rock and Roll Vampire Bash in connection with the golf tournament Sunday evening from 4:30-10PM which included a Cocktail Reception, Silent Auction, Dinner, Live Auction and Live Entertainment on the PCS Stage with Alice Cooper and friends, including Alex Lifeson, Danny Seraphine (Chicago), Tommy Thayer (KISS), Frank Sidoris (Slash), and Neal Smith (Alice Cooper). The Arizona Republic posted a review along with some photos to their website this past Monday and gave some details regarding what songs were performed and who performed them:
... [Cooper] and Frank Sidoris took the stage, Cooper announcing "Tonight, we're a cover band" before leading the band in a spirited version of "(I Can't Get No) Satisfaction," after which he did a brilliant parody of Mick Jagger's stage movie.

Then, they brought out Seraphine and Thayer to "go back even further than 'Satisfaction,'" as Cooper put it, on a ragged but raucous rendition of Chuck Berry's "Johnny B. Goode" that definitely played to Thayer's strengths on that Gibson Les Paul as Alice and Dash shared vocal duty.

Thayer was even better suited to the next song, Kiss' "Rock and Roll All Nite," on which also sang. As someone who grew up on Cooper and Kiss, I can't tell you how surreal it was to see Cooper singing "Rock and Roll All Nite." Maybe all those arguments my brother and I used to have over which of those artists was better back in grade school (I was Team Alice) could have been resolved with, "You don't have to choose." Who knew?

Of course, the fact that Lifeson was also on stage playing "Rock and Roll All Nite" would probably strike more people as surreal. But Lifeson looked like he was loving every minute of it.

Zelisko joined the fun for "Wild Thing," which rocked and included a jaw-dropping solo from Lifeson and Seraphine rocking more like a garage-rock fan than a veteran of Chicago.

When the song was over, Cooper proudly noted, "That's what bar bands do." ...
You can check out a bunch of great photos along with the full review online here, and also check out some video (YouTube, Facebook) of their performance of Wild Thing including Alex shredding on the solo.
This year's Rushfest Scotland took place at the Dreadnought Rock Club in Bathgate, central Scotland this past weekend. Legendary Rush producer Terry Brown was the special guest speaker and a video of his appearance has been uploaded to YouTube here. Terry is interviewed by Paul from The Canadian Music Scene for over an hour and talks about his early days in the music business, working with Rush, and many other subjects, and also spent some time answering fan questions. You can watch the full interview on YouTube here, and get a complete rundown of how the weekend went including photos and video on the RushFest Scotland Facebook page.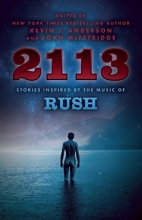 Clockwork Angels/Clockwork Lives author Kevin J. Anderson has co-edited an anthology of Rush-themed stories with John McFetridge titled 2113: Stories Inspired by the Music of Rush which was released earlier this month. Last week the book was featured as Sci-fi Addicts' Sci-fi Book of the Week:
Looking for a great Sci-Fi book that's a little different? Are you a fan of rock music and Canadian hard rock legends Rush? Then we've got the book for you! 2113: Stories Inspired by the Music of Rush features "18 exhilarating journeys into Rush-inspired worlds." The book, an anthology featuring 2 previously released and 16 new Rush inspired sci-fi stories, features some of the most celebrated modern talent in science fiction writing, such as Kevin J. Anderson, David Farland, and Mercedes Lackey, and it's available for your reading pleasure now! Kevin J. Anderson, author of over 125 novels (including the Saga of Seven Suns series) and John McFetridge (The Toronto series and Eddie Dougherty series) served as editors for the anthology.

These authors decided to dedicate their stories to the music of Rush because it "is filled with fantastic stories, evocative images, and thought-provoking futures and pasts." Each author was inspired by one of their songs and tried to recreate the feelings of the songs in their short stories.

Book Cover for 2113: Stories Inspired by the Music of RushMost of the stories are science fiction, exploring dystopic futures, or struggles that test the limits of humanity, though some fantasy and thriller stories can also be found. ...
You can purchase your copy of 2113 for Kindle, Audible, or get the paperback edition here.
A couple of weeks ago Paiste Cymbals posted a video of session drummer and Paiste artist Joel Stevenett pounding out a 24-minute tribute to his hero Neil Peart on a set decked out with an array of signature Paiste Cymbals (thanks Nava Fred). In the video's description, Stevenett describes how his discovery of Rush and Neil Peart at age 14 inspired him:
I remember at the age of 14 years old, living in Utah (we had just moved from the family farm just outside of Innisfail, Alberta, Canada), my friend, Mike Taylor, introduced me to Van Halen. I remember listening to the first song of that record, "Running with the Devil." It freaked me out a bit. ... I was inspired! I turned to Mike and asked, "What else you got"? "Have you heard of Rush? They're from your Canadian homeland!" I replied, "They're from Canada? I've never heard of them." He placed the needle on the first song of the album "Permanent Waves". The song started, the guitar entered, then came the syncopated hits, and then this EPIC drum fill, cascading down the tom-toms! "What the heck was that?!" I continued to listen and as the song ended, I was inspired and my life was changed forever! ...
SRO/Anthem's Meg Symsyk was recently hired by eOne Music to oversee artist brand marketing efforts on a global basis. Symsyk has been with SRO/Anthem for the past 8 years. From the press release:
... [eOne Music CEO Chris Taylor] has personally hired Meg Symsyk, who has spent the last eight years in artist management at Toronto's SRO Management/Anthem Entertainment Group - primarily handled marketing/media for Rush globally and managing punk rock icon Brody Dalle. ... Symsyk commented: "I am thrilled to be joining one of the world's leading entertainment companies, especially at this exciting time with Chris at the helm of eOne Music. Chris has always had such a prodigious vision, having signed, developed, and managed so many amazing artists over the years. With its recently-acquired labels including Dualtone Music Group and Last Gang, eOne is redefining itself in the music industry as an indie with unparalleled global reach and scale." ... In addition to her eOne responsibilities, Symsyk will continue her working relationship with SRO & Rush (Geddy Lee, Alex Lifeson, Neil Peart) in the handling of their media. ...
ColumbusAlive.com posted their list of the The 10 best things to originate in Canada this past week and Neil Peart's in-concert drum solo on "Working Man" made the cut:
Sure, we could've just slotted Rush on this list, but why not highlight a track that evolved into a live showcase for Peart's precise, powerful and uniquely dexterous drum skills?
Here's Alex Lifeson, Alice Cooper and others performing Wild Thing at Alice Cooper's Rock and Roll Vampire Bash this past weekend:
That's all for this week. Have a great weekend!