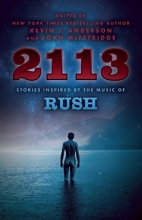 Clockwork Angels/Clockwork Lives author Kevin J. Anderson is co-editing an anthology of Rush-themed stories with John McFetridge titled 2113: Stories Inspired by the Music of Rush which is due to release in a couple of weeks from now on April 12th via ECW Press. Brad Birzer of Progarchy.com was lucky enough to obtain an advance review copy of the book and posted this review earlier in the week:
... Anderson and John McFetridge have edited a wide-ranging collection of stories, 2113, each tale inspired by a various Rush song. Sometimes the influence is direct and obvious, but, just as often, the influence is indirect and sideways. Anderson and McFetridge have clearly encouraged a range of expression. If a theme emerges, it is, naturally, the story of the individual human person, endowed with integrity and will, fighting against the conformism of governments, societies, and corporations.

[Without giving too much away, let me note that Anderson brilliantly connects the world of 2112 to the world of Clockwork Angels in the final paragraph of his own rather Walter-Miller-esque short story, "2113."]

While most of the tales are new, two come from that time before time, before Peart had joined Rush: Fritz Leiber's 1967 "Gonna Roll the Bones," and Richard Foster's 1973 "A Nice Morning Drive." It is not only wise, but handy to have these tales included in this collection. ... It is a satisfying, humbling, and inspiring book. ...
You can get a FREE 2113 sneak preview booklet online here (you just have to pay for shipping). The booklet includes the short story Random Access Memory by John McFetridge, inspired by Rush's Lakeside Park. You can pre-order your copy of 2113 here.

The owner of The Thurman Cafe in Columbus, OH happens to be a big Rush fan, and showed his fandom by naming a new burger on the menu the By-tor Burger as seen in this photo (thanks Ken C).
Beau Brockett, Jr. of the Albion Pleiad penned an article this past week titled A Farewell to Kings: Remembering Rush where he talks about finally being able to see Rush live in Detroit on the R40 Live tour:
... So the guitar chords wailed and the bass hummed; the snares shattered ears while a string ensemble dipped in rhythm, as four massive jets of fire burst up behind the musicians. The heat surged through the crowd in tandem with its shouts and cheers, and I realized that although these kings would soon be stepping down from their thrones, just to witness them perform was the perfect farewell to them.
Rush got a mention in a recent NME article listing 10 Times Musicians Were Upstaged By Their Own Fans. The incident in question didn't involve Rush directly, but instead had to do with another band covering Rush's best-known song Tom Sawyer:
4. Foo Fighters - WHAT HAPPENED: Foo Fighters' Dave Grohl asked any audience member who knew the words to come onstage and sing Rush's 'Tom Sawyer'. Brian complied and nailed it. Witnessing the clip ... is very like watching a man all of whose dreams have come true.
Twitter recently celebrated its 10th anniversary and to recognize the milestone the Toronto Star posted a list of 10 Toronto-centric Twitter feeds, one of which was Rush's (@RushTheBand):
The Toronto rockers call themselves a: "Prog-rock trio composed of Geddy Lee, Alex Lifeson, and Neil Peart. Otherwise known as the Holy Triumvirate." Since joining in June 2009, they've attracted 212,000 followers, not bad for a band that started developing a fan base when tablets were made of stone. This site's sacred ground for some in the music community, as it offers insights on musical technique, such as Geddy Lee's "right-hand picking technique."
Boston-based Rush tribute band Lotus Land appeared LIVE at the Whisky A Go-Go on the Sunset Strip in Los Angeles for AXS TV's The World's Greatest Tribute Bands this past Wednesday evening, and gave a very impressive performance as demonstrated by these post-show reactions from fans and this review and photo gallery. YouTube user Cal Vid uploaded a playlist with these 4 videos from their performance, so you can judge for yourself how they did:
[Tom Sawyer/Red Barchetta]
[Subdivisions/Closer to the Heart/YYZ]
[Limelight/Working Man]
[Xanadu]
That's all for this week. Have a great weekend everybody and - for those who celebrate it - Happy Easter!