UPDATE - 3/27@6:22PM: Here's a review of the show from Monsters and Critics.
UPDATE - 3/25@11:10AM: Here's a review and photo gallery from California Rock News.
UPDATE - 3/25@10:57AM: Here are some post-show reactions from fans.
UPDATE - 3/24@5:20PM: YouTube user Cal Vid has uploaded a playlist with 4 videos from Lotus Land's performance last night. Here they are:
[Tom Sawyer/Red Barchetta]
[Subdivisions/Closer to the Heart/YYZ]
[Limelight/Working Man]
[Xanadu]
----- snip -----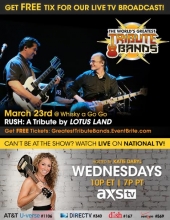 Boston-based Rush tribute band Lotus Land will be appearing on AXS TV's The World's Greatest Tribute Bands tomorrow evening at 10PM EST. The hour-long show is hosted by music maven Katie Daryl and features bands performing 100% LIVE from the world famous Whisky A Go-Go on the Sunset Strip in Los Angeles. If you are going to be in the SoCal area tomorrow night then you can get FREE tickets to be part of the live TV audience here. You can also watch it live on TV; just visit the AXS TV website to find out how/where to watch. You can view a promo for the episode on YouTube below or at this location.