UPDATE - 3/19@11:29AM: For those of you wondering, Rush sent out a newsletter yesterday and announced that there will be a limited edition version of Neil Peart's new book made available in the coming weeks, exclusively offered by the Rush Backstage Club. They also announced that the R40 Live video is finally available on iTunes.
Geddy Lee and Alex Lifeson presented Don Bosse of Fredericton High School (FHS) in Fredericton, NB with the 2016 MusiCounts Teacher of the Year Award in Toronto last week. Rush partnered with the Canadian music education charity to co-sponsor the Award which recognizes teachers with outstanding dedication to inspiring and nurturing the musical growth of Canadian youth. From the announcement:
... Rush members Geddy Lee and Alex Lifeson surprised Bossé, who is a fan of the band, while he was in Toronto last week for a private shopping experience at Holt Renfrew Men for his JUNO red carpet-ready suit. Click here for the full bio. At the surprise presentation to Bossé, Geddy Lee and Alex Lifeson spoke about the reasons they chose to support this award. "When everything you have in life has come from the fountain of music, you want to spread that around and you want to encourage others," said Lee. "Music is a fantastic way to enrich your life and to express yourself, so to encourage teachers to help young people find that in themselves is a very noble cause." "It's also way more fun than math," added Lifeson. ... "It is a huge honour for MusiCounts to have an iconic group like Rush sponsor this award," said Allan Reid, President & CEO, CARAS/The JUNO Awards & MusiCounts. "Considering that Geddy and Alex both share fond memories of being in music class together and Neil's comments about the direct influence of teachers throughout his career, it's very fitting. Without teachers like Don, it's hard to imagine just how many other JUNO Award-winning artists may not have got that crucial inspiration at a young age." ... "The experience of receiving the MusiCounts Teacher of the Year award from MusiCounts and Rush was truly amazing. It is a day I will never forget," said Bossé. "The award means a lot because it validates the importance of what we do as music educators and teachers, and the positive impact we have in the lives of our students." ...
Geddy Lee also spoke with Victoria Ahearn of The Canadian Press about the award and had this to say:
... Lee says he didn't have a teacher like Bosse growing up and he always felt there was a part of his musical education "that could have been so much more effective." "Learning in school in that time was very rigid and very classical-oriented and you didn't have the kind of creativity that people like Don are bringing into the classroom," says Lee. "I find that's what's so cool, when you go to some of these more contemporary and forward-thinking teachers, they're the ones that make a difference." ...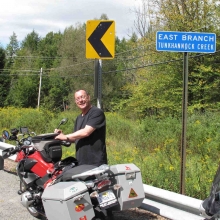 Earlier this week Neil Peart updated the news page on his website with the fifth installment in his BubbaGram series. If you recall from his first BubbaGram update back in September, Neil indicated that he'd be working on a book to chronicle the R40 Live tour. So in lieu of his regular news updates over the next year or so he is instead periodically posting a BubbaGram where he posts a couple photos from his travels along with a few paragraphs describing the photos. In this latest Bubbagram, Neil talks about a motorcycle accident he had back in September, 2010 during the Time Machine Tour which he describes as "the worst crash I ever had". Luckily his heavy boots and gloves, and full-face helmet did their job, and he escaped serious injury. Neil also explains why he waited over five years to tell the tale:
... Michael, Dave, and I agreed not to tell anyone else until after the Pittsburgh show-until I knew I could play. My journal note in all-caps advised myself: "PLEASE-TRY NOT TO TELL THIS STORY. FOR ALL GOOD REASONS." Because I knew I would want to write about it-for equally good reasons. Michael also chimed in and said I should never write about that crash. He shook his finger and said, "They'll take away your fun license." We were both talking about, of all things, insurance-referring to the medical affidavit each band member had to sign to insure the tour against . . . any interruption to the flow of commerce. That affidavit included this question: "Do you participate in any hazardous activities or pastimes (e.g. motor racing, flying other than as a fare-paying passenger, hang-gliding etc.)?" The list did not yet include motorcycling, ... So I kept it quiet and repaired the totaled motorcycle at my own expense. ... That night in Pittsburgh I got through the show okay, limping on and off stage but able to play "properly," so that no one else would know. A few days later I shared the story with the Guys at Work, but still, for the next five years I kept my resolve never to write about that crash. Until the time might come when I no longer worried about anybody taking away my "fun license."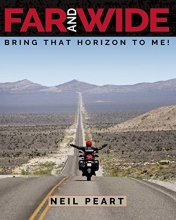 You can read the entire update here and watch video of Neil Peart's drum solo from the Pittsburgh show that he references here. As mentioned above, Neil Peart announced back in September that he'd be releasing a book chronicling Rush's R40 Live tour, and in January revealed the book's title as Far and Wide: Bring that Horizon to Me!. Some more information regarding the book's contents along with the cover image were revealed earlier this week and you can get all the details from Amazon.com. Far and Wide is listed at 312 pages and is slated for release via ECW Press on September 13th. You can pre-order it at this location.
Last weekend Alex Lifeson participated in the 2016 Patrick Warburton Celebrity Golf Tournament to benefit St. Jude Children's Research Hospital. The event took place at the JW Marriott Desert Springs Resort in Palm Desert, CA and included a celebrity Jam Session Friday night with the golf tournament itself taking place over the weekend. Alex Lifeson along with Alice Cooper, Don Felder, Skunk Baxter, Robbie Krieger and many more (full list of participants here) participated in the jam session and a HUGE gallery of 750+ photos is available at the Patrick Warburton Celebrity Golf Tournament Facebook page here including several of Lifeson (photo 1, photo 2, photo 3, photo 4, photo 5, photo 6, etc.). They also posted a short clip of Alex playing Tom Sawyer. Alex also was in attendance at the Saturday night Soiree and ended up playing on stage as seen in a few photos such as this one. Alex participated in the Sunday golfing and is shown in several of the photos in this gallery. The event ended up raising a record-breaking $1,725,635 for ‪St. Jude's Children's Research Hospital - becoming its top grossing golf tournament fundraiser in the US.
Season 6 of AXS TV's The World's Greatest Tribute Bands premiered last month and next week's episode will feature Boston-based Rush tribute band Lotus Land. Episode 6 featuring Lotus Land will air this coming Wednesday, March 23rd at 10PM EST. The hour-long show is hosted by music maven Katie Daryl and features bands performing 100% LIVE from the world famous Whisky A Go-Go on the Sunset Strip. You can watch a promo for the episode on YouTube here.

Canadian radio personality Jeff Woods will be releasing his first book Radio, Records & Rockstars this coming May. The book takes you behind the curtain, revealing first-hand accounts and exclusive conversations with the legends of rock, including Rush, who Woods has interviewed many times over his career working in Canadian radio. The book is now available for pre-order at this location.
Apparently Edge Factor is working on a documentary titled Masters of Resonance that will feature Neil Peart and others including John Good from DW Drums and Bob Taylor from Taylor Guitars (thanks RushFanForever). No other details are available at this time.
In celebration of March Madness, Ultimate Classic Rock is running a March Mullet Madness bracket contest where they pit rock star mullets against one another to determine the ultimate rocker mullet. Geddy Lee's '80s-era mullet is currently pitted against Rod Stewart's spikey hairdo in round one, and you can vote for Geddy here once per hour up until polls close on March 21st.
Canadian prog-rockers FM are set to release their first new album in 30 years and sat down with Team Rock for an interview to discuss the album and the band's history, including when they opened for Rush back in 1981 (thanks RushFanForever):
... In 1981, the highlight of FM's career was opening for Rush on their North American Moving Pictures tour. "Talk about rock'n'roll zoo!" laughs Hawkins. "At Madison Square Garden, the Ringling Brothers Circus pulled out of the main arena and then Rush came in. You're walking in and there's dwarves and elephants and white tigers - we were in fairyland. Then you walk out and play for 17,000 people who immediately react 100 per cent positively, and I suddenly thought: 'I have long hair and a Rickenbacker bass and I'm playing keyboards - maybe they think we're Rush?'

"Something amazing happened throughout the whole tour - our crew and their crew, our band and their band, and their audience... it was magical. We'd do our soundcheck and then the cover would come off Neil's drums, Geddy would come over and pick up a bass, Alex would plug into his amp behind Ben and we'd just start playing together. It was a wonderful thing." ...
The start of Major League Baseball season is just a couple of weeks away and SB Nation has posted their list of the Top 10 most awesome (or not-so-awesome) fans in the American League, and our own favorite baseball fan Geddy Lee makes the cut at #2:
Geddy Lee of Rush is the most awesome Canadian ever, and he's also a big fan of America's national pastime. He has thrown out first pitches and has sung the Canadian anthem prior to ballgames. Geddy read all of Bill James' old Baseball Abstracts. Of course he did! He's Geddy Lee! Geddy's parents survived the Holocaust. They were initially imprisoned at Auschwitz. This might help to explain why Geddy's not fucking around. (I don't know for sure what Neil Peart's excuse is, but he is seriously not fucking around.) Anyway, this gives me an excuse to include a link from the stars of I Love You, Man!, Jason Segel and Paul Rudd, who met Rush.
The whole Meg White is the new drummer of Rush fake news story won't seem to die. The fact that a number of people actually believed it was the funniest thing about it. It even garnered so much attention that Snopes.com felt compelled to debunk it. Consequence of Sound took things a step further and created a fake video news story about it this past week. Let's hope that's the end of it!

Rush superfan and longtime RIAB reader Kelly D was featured in her alumni quarterly magazine at Smith College recently, highlighting her epic journey following Rush around on last year's tour:
When rock band Rush kicked off its 40th anniversary tour last year superfan Kelly D packed her bags and followed her favorite band all around North America, catching 24 concerts on the R40 Live Tour.
Kelly was a HUGE help with the rushisaband.com tour coverage last year (and on previous tours) and we always looked forward to her reports from the road. You can check out a gallery of some of the highlights from her travels on Facebook here.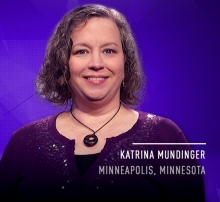 Rush fan Katrina Mundinger of Minneapolis, MN was a contestant on Jeopardy! last week and in last Friday night's episode she gave a shout-out to Rush and Geddy Lee. When introducing Katrina, host Alex Trebek remarked about how she was a professional clarinet player who was also a big fan of heavy metal. Alex then asked her who her favorite heavy metal group was and she replied as follows:
First I want to lead with my favorite hard rock group - they're Canadian - Rush. Geddy Lee and his sexy little Canadian accent. I just love it. ...
Rush fan Ray Barfield posted a short clip of Katrina's intro from the show to Facebook which you can watch below or at this location.
Mundinger is not the first Rush fan to appear on Jeopardy! in recent months. Rush fan Jennifer Morrow appeared on the show this past summer and garnered a lot of attention by bringing a pair of Neil Peart drumsticks to the show for good luck, and also by betting $2,112 on a Daily Double. That's all for this week. Have a great weekend!