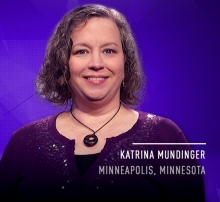 Rush fan Katrina Mundinger of Minneapolis, MN is a current contestant on Jeopardy! this week and in tonight's episode she gave a shout-out to Rush and Geddy Lee. When introducing Katrina, host Alex Trebek remarked about how she was a professional clarinet player who was also a big fan of heavy metal. Alex then asked her who her favorite heavy metal group was and she replied as follows:
First I want to lead with my favorite hard rock group - they're Canadian - Rush. Geddy Lee and his sexy little Canadian accent. I just love it. ...
Rush fan Ray Barfield posted a short clip of Katrina's intro from the show to Facebook which you can watch below or at this location.
Mundinger is not the first Rush fan to appear on Jeopardy! in recent months. Rush fan Jennifer Morrow appeared on the show this past summer and garnered a lot of attention by bringing a pair of Neil Peart drumsticks to the show for good luck, and also by betting $2,112 on a Daily Double.