A new Rolling Stone interview with Alex Lifeson from earlier this week drew a lot of attention from the music "press". This despite the fact that the interview really contained no new information whatsoever. In the interview Lifeson addressed Rush's future, but didn't really say anything that hadn't already been said in previous interviews:
... "We had such a great time on the tour," ... "And it was really nice to go through all the material in reverse chronology, and I think our fans really enjoyed it. I think that no matter how long it would have been, it would have been too short. Neil was prepared to commit to 30 dates and he told us that right from the very beginning. He didn't even want to do the tour, to be honest with you. It's been increasingly difficult for him, but he committed to the tour and we got through it. As far as he was concerned, that was the end of touring." ... "His shoulders were hurting, his arms were hurting, his elbows, his feet, everything," ... "He didn't want to play anything less than 100 percent. He was finding it increasingly difficult to hit that mark on this last tour. So, all those things combined, I get it. I'm disappointed and I think Geddy [Lee] is very disappointed and we'd love to continue this tour a little bit longer, but we're off now." ...
One music publication in particular - Consequence of Sound - decided to run a story referencing this interview with the "clickbait" headline, Alex Lifeson confirms Rush's retirement from touring and also included this subtitle which essentially puts words in Alex Lifeson's mouth that he never actually said: Rush guitarist says Neil Peart is no longer physically capable of life on the road. No. Rush guitarist never said that ... read the damn interview. Other publications took this and ran with it, featuring headlines such as, Rush calls it quits, guitarist Alex Lifeson says they will never tour again, Alex Lifeson Says No More Rush Tours, etc. You get the picture. One satirical publication had some fun with it all, and ran a story titled White Stripes Drummer Meg White To Replace Rush's Neil Peart. So the bottom line is that nothing has really changed with the status of Rush; they are taking a break, major tours are likely a thing of the past, they may still get together and write, etc. The more interesting part of the interview was when Alex addressed what Geddy Lee has been up to and spoke about the prospect of writing new music:
... "[Geddy is in the] Falkland Islands or something, penguin watching," the guitarist says with a laugh. "I know he's open to sitting down and doing some writing," ... "I've been writing since the summer anyway because that's just what I like to do. I have a small studio in town and I have my own setup at my place. So I like to keep my fingers in it and keep busy, playing guitar. I know I can give Ged a push and we do love working together. We only live five minutes from each other. And I've gone over and had a coffee in the past, and we end up going downstairs into his room and start making some noise." ... "You never know," ... "Maybe next fall or something like that, we'll plan something. We took a year off before the last tour and we didn't discuss anything about the band or work, and everybody had a great time, and we came back from that." He laughs. "We're getting older and it's getting tougher, but I don't know. We'll see." ...
Speaking of Alex Lifeson, the 11th annual Toronto Sketch Comedy Festival is taking place all this week in Toronto, and included an evening of comedy and music with HELLO! THUNDER BAY! this past Monday evening at the Randolph Theatre. The event was hosted by Dave Bidini of the Rheostatics and Rush's Alex Lifeson was one of the featured guests. Alex sat down with Dave and entertained the crowd with humorous tales of his life on the road with Rush. He spoke about some of the more memorable venues Rush played around Toronto in the early days, touring with KISS (he tells the story of the infamous "BAG"), UFO, Angel and other bands, and also touched on Rush's late '70s run-in with the all-girl band The Runaways. One fan managed to get some video of about the first 18 minutes of Alex's appearance which you can check out below or on YouTube. There's also this shorter clip of Alex from a closer up perspective, and a couple of photos of Alex from the event were posted to Twitter here and here.
In addition to his new side career in comedy, Alex Lifeson will be breaking out the golf clubs this weekend as one of the participants in the 2016 Patrick Warburton Celebrity Golf Tournament to benefit St. Jude Children's Research Hospital. The event is taking place at the JW Marriott Desert Springs Resort in Palm Desert, CA and kicked off this past Monday with a 5K race. There was also a Songwriters Night yesterday evening, tonight there will be a celebrity Jam Session, and the golf tournament itself takes place over the weekend. Alex along with Alice Cooper, Don Felder, Skunk Baxter, Robbie Krieger and many more (full list of participants here) will also be participating in tonight's jam session. For more information visit patrickwarburtongolf.com. Unfortunately tonight's event is already sold out. Both Warburton and Lifeson participated in the 2014 Scott Medlock-Robby Krieger Invitational Golf Tournament a couple of years ago as seen here.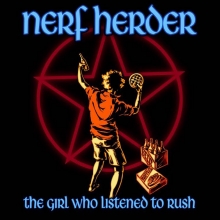 California geek-rockers Nerf Herder release their new album Rockingham today. Last Friday they revealed a new lyric video for one of the album's featured tracks - The Girl Who Listened to Rush. From Exclaim.ca:
... No strangers to namedropping classic rockers in their music, the band's latest track harkens back to a time when frontman Parry Gripp spent an entire year of high school listening only to Rush and fantasizing about meeting a girl who did the same. In homage to the Torontonian rock heroes, Nerf Herder tracked down the mixing board that Rush used to record many of their greatest hits and used it for the recording of the new single. Channeling his inner Neil Peart, drummer Steve Sherlock even implemented temple blocks, chimes, rototoms and a giant gong to really achieve that Rush-like sound. ...
They song is obviously about a female Rush fan and is chock full of references to the band and their music. Here's a sampling of the lyrics from the chorus of the song:
Philosophers and ploughmen
They can't resist her call
They cannot choose not to decide
So they've got no choice at all
They've gotta love her
You can check out the lyric video for The Girl Who Listened to Rush on YouTube at this location and order your copy of Rockingham here.
Here's some video of Alex Lifeson telling some humorous Rush road stories at the Toronto Sketch Comedy Festival's HELLO) THUNDER BAY! event earlier this week:
That's all for this week. Don't forget to Spring Forward this Sunday and have a great weekend!