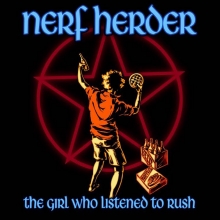 California geek-rockers Nerf Herder are set to release their new album Rockingham next Friday, March 11th and have revealed a new lyric video for one of the album's featured tracks - The Girl Who Listened to Rush. From Exclaim.ca:
... No strangers to namedropping classic rockers in their music, the band's latest track harkens back to a time when frontman Parry Gripp spent an entire year of high school listening only to Rush and fantasizing about meeting a girl who did the same.
In homage to the Torontonian rock heroes, Nerf Herder tracked down the mixing board that Rush used to record many of their greatest hits and used it for the recording of the new single. Channeling his inner Neil Peart, drummer Steve Sherlock even implemented temple blocks, chimes, rototoms and a giant gong to really achieve that Rush-like sound. ...
They song is obviously about a female Rush fan and is chock full of references to the band and their music. Here's a sampling of the lyrics from the chorus of the song:
Philosophers and ploughmen
They can't resist her call
They cannot choose not to decide
So they've got no choice at all
They've gotta love her
You can check out the lyric video for The Girl Who Listened to Rush below or on YouTube at this location and pre-order Rockingham here. Thanks to John at Cygnus-X1.net for the heads up.