UPDATE - 3/2@3:51PM: John at Cygnus-X1.net has also made a transcription available here.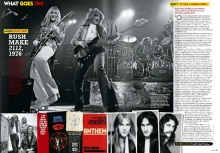 Rush's 2112 is celebrating the 40th anniversary of its March/April 1976 release this year, and Mojo magazine has included a special 3-page feature on the album's anniversary in its March 2016 issue. They chat with both Geddy Lee and producer Terry Brown about the story behind the album's inception and its huge success. Here's Geddy on how the album was received:
... At first, 2112 was a slow seller, but when we went back on the road we were getting better gigs, even headlining some shows. It was a defining album. The artwork for the album by our friend Hugh Syme became a brand, it transcended the record and became very representational of us as a band. The album was a vindication. From that point, we were free to make our own mistakes. ...
You can read the entire article online here on pages 22-4 (thanks RushFanForever).