UPDATE - 2/26@11:00PM: You can now listen to the Geddy Lee and Alex Lifeson Sound Opinions interview online here, or using the player below.
.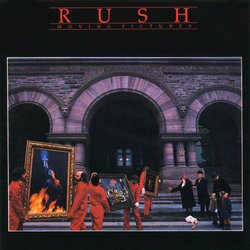 Alex Lifeson recently stopped by Toronto's Boom 97.3 as part of their Behind the Vinyl feature to play Rush's Tom Sawyer on vinyl and talk for about 5 minutes about the song and the Moving Pictures album, which recently celebrated its 35th anniversary. You can watch the interview below or at this location. They are also running a contest to win tickets to HELLO! THUNDER BAY! - an evening of musical comedy and wild rock 'n roll road stories which is being headlined by Alex Lifeson and hosted by Dave Bidini. The show will take place on Monday, March 7th at The Randolph Theatre as part of The Toronto Sketch Comedy Festival. You can enter to win tickets at this link. On a related note, the A.V. Club in partnership with Rush and Rounder Records posted a Tom Sawyer "megamix" video earlier this week in celebration of the Moving Pictures 35th anniversary. From the A.V. Club:
... To celebrate [the anniversary], Adam Jones, director, videographer, web designer, and photographer brought together all of Rush's performance videos from 2003 to present-day to make a "Tom Sawyer" megamix.

Inspired by Rush's 1988 video for "Closer To The Heart," from the band's Different Stages live release, the mix covers everything from 2003's Rush In Rio tour to the band's most recent, and perhaps last, tour, R40-all of which can be found on the R40 Collector's Boxed set released in November 2014, and the new R40 Live released in November 2015.
You can check out the "megamix" video on YouTube here.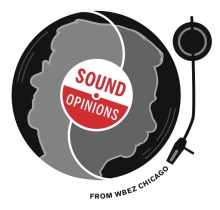 Geddy Lee and Alex Lifeson will be the guests on tonight's episode of Chicago Public Radio's Sound Opinions program. Sound Opinions is a nationally-syndicated radio talk show hosted by Jim DeRogatis and Greg Kot focusing on rock music. It airs Friday nights at 8PM CT and Saturday at 11AM CT on Chicago Public Radio. This week's show will feature Rush & Opinions on Kanye West as described on the website:
Famous for its instrumental virtuosity and heady, sci-fi influenced lyrics, the Canadian prog-rock trio Rush has amassed an obsessive cult following. Geddy Lee and Alex Lifeson of Rush join hosts Jim DeRogatis and Greg Kot to discuss the band's remarkable 40-year career. Then they review the latest album from polarizing rapper Kanye West.
For details on how and where to listen to the program, visit the Sound Opinions website.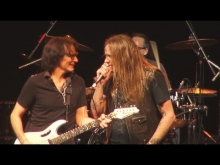 The 2016 Monsters of Rock Cruise took place this past week and on Sunday night there was a special pre-party at the Magic City Casino in Miami. Sebastian Bach's Rush cover band Hurry performed a set of Rush covers (Hurry also performed at NAMM last month) and were joined by guitar legend Steve Vai and others at different points in the set. Here's some video of Hurry performing Red Barchetta and Tom Sawyer with Steve Vai joining in on Tom Sawyer at about the 6:45 point of the video.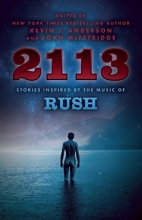 Clockwork Angels/Clockwork Lives author Kevin J. Anderson will be releasing an anthology of Rush-based stories co-edited with John McFetridge later this spring titled 2113: Stories Inspired by the Music of Rush. The book is due to release on April 12th via ECW Press and they now have FREE 2113 sneak preview booklets available. Anderson gave several away at Pensacon this past weekend and you can also get one online here (you just have to pay for shipping). ECW Press is also running a Facebook contest where they are giving away 100 of the booklets. The booklet includes the short story Random Access Memory by John McFetridge, inspired by Rush's Lakeside Park. For 2113 Anderson lined up a team of award-winning and bestselling authors to contribute short stories based on Rush songs, with Anderson himself contributing a novella titled 2113. You can pre-order your copy of 2113 here.
Detroit-based prog rockers Tiles have released the first single from their upcoming double album Pretending to Run, which is due out April 15th. The single is titled Shelter in Place and features Max Webster's Kim Mitchell on lead guitar. You can check out the video for the song on YouTube here. In addition to Kim Mitchell, Pretending to Run includes guest appearances from Mike Portnoy (Dream Theater, Winery Dogs), Ian Anderson (Jethro Tull) and many others, and it was produced by former Rush producer Terry Brown, who also produced their last 2 studio albums (Window Dressing and Fly Paper). Rush album artist Hugh Syme also does all the album artwork for Tiles (he also played piano and keyboard on a few tracks), and Alex Lifeson performed on one of the tracks from the band's last studio album. For for more information on Tiles and Pretending to Run, including upcoming tour dates and purchase information, check out the Prog magazine press release.
Ready Player One is the critically-acclaimed, 2011 sci-fi book from author, self-described seventies/eighties protonerd and Rush fan Ernest Cline. Ready Player One makes several references to '80s pop culture, with particular attention to cult films, classic arcade video games and music. The book contains several references to Rush including a particularly significant reference to the band's 2112 album. Last year we learned that legendary director Steven Spielberg had been tapped to direct the film, with comic book movie writer Zak Penn working with Cline on the script. Earlier this week it was announced (thanks Eric at Power Windows) that the lead role in the film will be played by 20-year-old American actor Tye Sheridan, best known for his roles in The Tree of Life (2011), Mud (2012) and Joe (2013). He'll also be playing the role of a young Cyclops in the upcoming X-Men: Apocalypse film. It'll be interesting to see how many (if any at all) of the Rush references, along with the many other references to '80s-era films and pop culture will end up making it into the movie.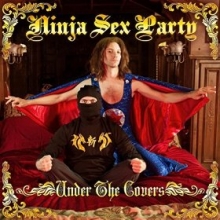 You may remember (or you may be trying to forget) my mention of the musical comedy duo and YouTube sensation Ninja Sex Party last year, who included a song titled 6969 on last year's Attitude City album which is a parody of Rush's 2112. The song is split into 6 parts, containing lyrical nods to 2112 such as, I know it's most unusual to come before you so and also mirroring some of the themes included in the story of 2112. The duo will be releasing an album of cover songs next Friday, March 4th titled Under the Covers which includes covers of Rush's Subdivisions and Madrigal (thanks Dan). You can listen to samples of the songs on CDBaby. The popular duo's YouTube page has over 500,000 subscribers and nearly 55 million views, and their videos have been featured on the front pages of Funny or Die, CollegeHumor, and Dailymotion.
Popular Mechanics posted an article last week by Ben Hewitt titled The Cabin I Built to Keep a Promise to My Dead Best Friend, where he relays a touching story about a promise he made to his best friend Jim who died last year in his sleep of heart failure at age 43. The story contains a few references to how the friends bonded through their love of Rush:
... Jim and I had known each other since high school. We'd been close then, and we'd remained close over the years, bonding first over our shared affection for too-fast motorcycles and classic Rush and later over the pleasure we derived from home projects. ... I think of Jim frequently, maybe even every day. The mill is a reminder, of course, but so are many other things: a Rush song coming on the radio, a rare sighting of one of those funny little low-slung Pontiac Fieros like the one he owned in high school, the same one we spent hours in, driving too fast, the heavy bass lines from 2112 thrumming in our ears. Even this project. He would've loved this project. He would've been here helping all the time. ...
Ultimate Classic Rock posted their list of the Best Rock Albums of 1981 earlier this week (thanks Fender M) and Moving Pictures made the cut at #4:
Rush notched their best-ever U.S. sales with a set devoted to smaller-scale, more radio-friendly fare - but that doesn't mean their prog sensibilities were totally lost. After all, the cover includes not a single, not a double, but a triple entendre relating to the album title. Then there was "Witch Hunt," which kicked off a four-song series titled 'Fear' that continued through 'Vapor Trails,' more than two decades later.
The Different Stages Music Project blog posted a posthumous review and analysis of Rush's 2002 album Vapor Trails earlier this week, discussing the landscape surrounding its release in the wake of Rush's 5-year hiatus, and comparing it to the 2013 Vapor Trails Remixed version.
Here's Alex Lifeson's interview with Toronto's Boom 97.3 from earlier this week:
That's all for this week. Have a great weekend!