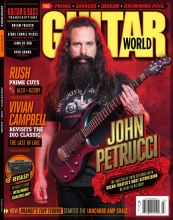 A couple of weeks ago we learned that Rush is featured in the March, 2016 issue of Guitar World magazine. The feature is titled Farewell to Kings and John over at Cygnus-X1.net has transcribed the article and made it available online here. In it, Guitar World's Joe Bosso sits down with Geddy and Alex to discuss the band's R40 Live tour, specifically the setlist selection. They go through select songs from the setlist and give their opinions on each one. Here's what they had to say about fan-favorite Jacob's Ladder:
LIFESON: We played it when the album came out and brought it back. You make room for certain songs, and it felt right to feature it. We talked about doing it before, but we never felt excited about it. Once we started rehearsing it for this tour and refreshed it a bit, it became a favorite to play.

LEE: Alex's playing is spectacular. For me personally, I didn't want to play it at first because I thought some of the keyboard sounds were a little dated. I just wasn't sure I could get behind it live in an authentic sense. Once I freshened up the sounds, it kind of came together for me. I think it helped the melody and made everything sound more interesting. Our programmer, Jim Burgess, really did a great job with the new textures and sounds. I credit him with saving the song.
The article also briefly touches on the band's future:
... Owing to a few nagging health concerns, not the least of which has been drummer Neil Peart's chronic tendonitis, speculation has hung in the air recently that the R40 tour signaled Rush's unofficial retirement from the road, or at least major hauls. Asked to predict whether fans can expect to see an R50 tour a decade from now, Lee shakes his head and says, "Not at this point But you never know. As of right now, it's a little unpredictable." ...
You can read the entire article online here.