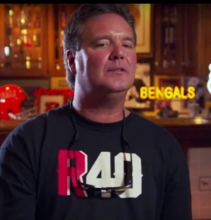 ESPN ran a segment on the pre-game show before today's match-up between the Cincinnati Bengals and the Pittsburgh Steelers (the Bengals ultimately lost 33-20). They feature Bengals fan Jeff Wagner, who is known for his elaborate banners that he has been bringing to every Bengals home game going back to 1998. Wagner is wearing a Rush R40 t-shirt in the video, and when describing his weekend banner-creation ritual, he mentions how he always plays Rush, saying the following:
I'll go in [to my garage] and turn on Rush - the greatest Rock and Roll band in the history of the world. ...
All this while they play Rush's Limelight and show footage of Wagner creating a banner. You can watch the segment below or on YouTube at this location. Thanks to SuperMegaUberGenius for the heads up.