UPDATE - 11/11@5:21PM: The town hall interview will be taped Friday afternoon, but won't air until Wednesday, November 25th at 6PM EST on Classic Rewind (Ch. 25) as a 1-hour show with several rebroadcasts the following week (full schedule here). If you aren't already a subscriber, you can get a free 30-day trial at this location.
UPDATE - 11/9@7:55PM: Here's the Rush.com press release which gives some more details:
Geddy Lee & Alex Lifeson will join host Michael Moore and a lucky group of select fans for the @SiriusXM RUSH TOWN HALL event taking place this Friday, November 13th in New York City. For your chance to be a part of the studio audience, please visit: https://www.siriusxm.com/rushtownhall

Tonight, @SiriusXM subscribers can tune into @SiriusXM Classic Rewind at 6pmET/3pmPT to listen to R40 Live in its entirety. Check the broadcast schedule to hear it again on SiriusXM Classic Rewind, Deep Tracks, Ozzy's Boneyard and SiriusXM Comes Alive channels Nov 9 through to Dec 6, 2015.
----- snip -----
UPDATE - 11/8@6:41PM: It now looks like the time for the R40 Live premiere is 3PM EST (thanks JJJ).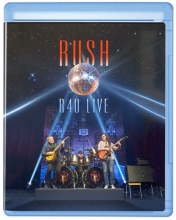 We learned last week that Sirius XM's Classic Rewind (Channel 25) will be premiering the audio from Rush's upcoming R40 Live CD tomorrow evening at 3PM EST. Earlier today Sirius XM also announced that they will be hosting a town hall interview with Geddy Lee and Alex Lifeson at their New York City studios this coming Friday, November 13th. They are running an online sweepstakes for Sirius XM subscribers to attend the town hall as well:
SiriusXM wants to give you and a guest the chance to attend SiriusXM's Town Hall with Rush. This exclusive event will take place on Friday, November 13 at SiriusXM's NYC studios and will feature original members Geddy Lee and Alex Lifeson answering questions from an intimate studio audience about their legendary 40-year career, to celebrate the release of the RUSH R40 LIVE DVD+3CD set (out November 20). To qualify, we're asking SiriusXM subscribers to submit their most creative and insightful questions about Rush for a chance to ask the question to Geddy Lee and Alex Lifeson in person at the Town Hall.
To enter and for all the details go to this location (thanks Michael S). Rush's R40 Live concert film will be released on November 20th just in time for the Holidays, and will be available as 2 DVDs, 1 Blu-ray disc or 3 Audio CDs along with various combo packages. The Rush Backstage Club includes an optional t-shirt (seen here) with any purchase, and Best Buy's package includes a Rush Starman flashlight. Previews of Tom Sawyer, The Spirit of Radio, Roll the Bones, Closer to the Heart, and Jacob's Ladder are available for viewing online, along with a 2-minute trailer for the film here. R40 Live's tracklisting mirrors the Friday, June 19th Toronto show setlist, with One Little Victory, Distant Early Warning and Red Barchetta from the June 17th Toronto show as bonus material on the DVD/Blu-ray. The CD will also include audio for Clockwork Angels, The Wreckers, The Camera Eye and Losing It with Jonathan Dinklage as bonus material. Digital versions of Tom Sawyer (Amazon, iTunes), Roll the Bones (Amazon, iTunes) and Closer to the Heart (Amazon, iTunes) from the CD are available for purchase. There will also be a special London, UK screening of the film on November 17th. You can pre-order R40 Live at the following links:
[3-disc CD/Blu-ray Combo]
[3-disc CD/DVD Combo]
[3 Audio CDs]
[Blu-ray only]
[DVD only]
Related Posts:
[Rush's R40 Live radio premiere this Monday on Sirius XM, Tom Sawyer video preview online]
[Rush's The Spirit of Radio (Live) video from their upcoming R40 Live CD/DVD/Blu-ray available online]
[Rush's Closer to the Heart (Live) audio/video from their upcoming R40 Live CD/DVD/Blu-ray available online]
[Rush R40 Live concert film London, UK screening]
[Rush's Jacob's Ladder (Live) video from their upcoming R40 Live CD/DVD/Blu-ray available online]
[Rush's upcoming R40 Live CD/DVD/Blu-ray: details, cover, tracklist and pre-order now available]
[Rush's upcoming R40 Live CD/DVD/Blu-ray now available for pre-order]
[Rush's Roll the Bones video from their upcoming R40 Live CD/DVD available online]
[Rush's Roll the Bones single from their upcoming R40 Live CD/DVD now available]
[Rush's R40 Live CD/DVD to release November 20th, Roll the Bones single available next week]
[Rush R40 Live tour Toronto show #2 open thread]
[Rush R40 Live tour Toronto show #1 open thread]