UPDATE - 11/16@10:18AM: The article is also now available on the DRUM! Magazine website here.
UPDATE - 11/4@2:30PM: John over at Cygnus-X1.net has also transcribed the article and made it available online here.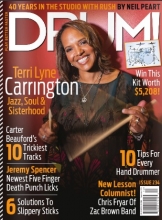 The December, 2015 issue of DRUM! magazine contains a multi-page feature written by Neil Peart for their Plugged In series titled Magnetic Memories: Four Decades in the Studio with Rush. Peart reminisces about his four decade career in the recording studio, from his time with J.R. Flood up through Rush's Clockwork Angels album. He offers this bit of parting advice to aspiring drummers:
... Other than "practice, practice, practice," the only unqualified advice I can give to beginning drummers is to play live, in front of people, as often as you can. Nothing teaches you more about where the nexus lies between what makes you excited as a player, and what excites an audience. If the ideal is to play music you like, and have other people like it too, then the definition of luck fits perfectly: where preparation meets opportunity. ...
You can check out the entire article online here beginning on page 102 (thanks RushFanForever).