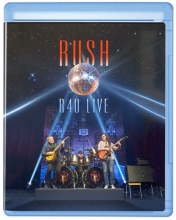 Earlier this week Rush released an online preview of Jacob's Ladder (Live) from their upcoming R40 Live concert video to YouTube which you can check out at this location. R40 Live will be released on November 20th just in time for the Holiday, and will be available as 2 DVDs, 1 Blu-ray disc or 3 Audio CDs - along with various combo packages and an optional t-shirt (seen here). The cover art can be seen here and the tracklisting mirrors the Friday, June 19th show setlist, with One Little Victory, Distant Early Warning and Red Barchetta from the June 17th show as bonus material on the DVD/Blu-ray. The CD will also include audio for Clockwork Angels, The Wreckers, The Camera Eye and Losing It with Jonathan Dinklage as bonus material. There won't be any kind of documentary included with the package, so the Rush fan documentary that was filmed during the tour will probably get a separate release sometime next year. A digital version of Roll the Bones (Live) from the CD is available for purchase (Amazon, iTunes) and the video for the song is available to watch on YouTube. There's also a 2-minute trailer for the film which you can watch online here. You can pre-order R40 Live at the following links:
[3-disc CD/Blu-ray Combo]
[3-disc CD/DVD Combo]
[3 Audio CDs]
[Blu-ray only]
[DVD only]
Speaking of R40 Live, the tour is the subject of a four-page cover feature in the Fall issue of Professional Lighting and Production magazine titled R40: Traveling Back Through Time With Rush. They speak with Rush lighting director Howard Ungerleider and the tour's creative director Dale Heslip. The pair detail how the tour design came together, the thought process that went into the design, and several details about the production and lighting. The entire article is available online at this location.
Rush's vinyl re-issue campaign continued last Friday with the release of Signals on vinyl - the Blu-ray Audio version was released back in August. Rush has been releasing their entire back catalog on vinyl throughout 2015. Next up are Presto and Roll the Bones which are slated to release one week from today on October 23rd. All titles are high-quality vinyl with a 320kbps MP4 Digital Audio download code, and you can order/pre-order all the various Mercury-era and Atlantic-era reissues using the links below:
AVAILABLE FOR PURCHASE

Fly By Night (01/27/15) - Vinyl | Blu-ray Audio
Caress of Steel (02/17/15) - Vinyl
2112: Hologram Edition (03/17/15) - Vinyl
All the World's a Stage (03/17/15) - Vinyl
A Farewell to Kings (04/21/15) - Vinyl | Blu-ray Audio
Hemispheres (05/19/15) - Vinyl
Permanent Waves (06/16/15) - Vinyl
Moving Pictures (07/24/15) - Vinyl | Vinyl + Large t-shirt | Vinyl + XL t-shirt
Signals (08/14/15) - Blu-ray Audio
Exit ... Stage Left (09/25/15) - Vinyl
Signals (10/09/15) - Vinyl

AVAILABLE FOR PRE-ORDER

Presto (10/23/15) - Vinyl
Roll the Bones (10/23/15) - Vinyl
Counterparts (11/6/15) - Vinyl
Test for Echo (11/6/15) - Vinyl
Grace Under Pressure (12/4/15) - Vinyl
Power Windows (12/4/15) - Vinyl
Hold Your Fire (12/11/15) - Vinyl
A Show of Hands (12/11/15) - Vinyl
Feedback (1/15/16) - Vinyl
Snakes & Arrows (1/15/16) - Vinyl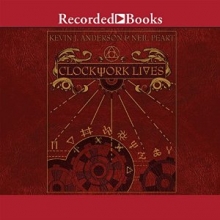 Kevin J. Anderson and Neil Peart's follow-up to their best-selling Clockwork Angels novel is titled Clockwork Lives and officially released via ECW Press last month. It is described as a steampunk Canterbury Tales and further explores some of the people and places from the Clockwork Angels universe. Anderson announced via his blog today that the audiobook is now also available:
... The audiobook has as many unique narrators as there are stories. One reader does the main narrative of Marinda Peake, while individual readers take over the duties for the different tales. I even did one of the stories myself, hitting the studio to record The Wrecker's Tale toward the end of the book. ...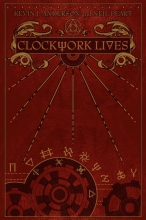 You can order the audiobook at Amazon here. Eric over at the Power Windows posted his review of the book earlier today:
... With Clockwork Lives ... we are treated with a sprawling tale which takes us across the world of the Watchmaker, where Marinda [Peake] finds herself crossing paths with the Anarchist, the Wreckers, the Carnies, and many other familiar figures from the first novel, including Owen Hardy. Clockwork Lives is not a sequel to Clockwork Angels, however. Rather, it's a companion novel in the same universe which actually takes place at the same time and crosses paths with the events in the first novel, and can be enjoyed by itself if you passed on Clockwork Angels. Clockwork Lives is also an extra special feast for Rush fans. Like its predecessor, it is loaded with Rush references and lyrics, but to this reader, they were less obvious, more subtle, and therefore more apt to bring a smile when recognized. In addition, Geddy, Alex and Neil are even represented, but I don't want to spoil it ...
You can order your copy of Clockwork Lives via Amazon at here.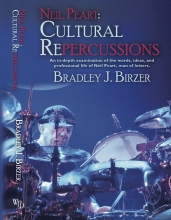 Author Bradley J. Birzer's new book Neil Peart: Cultural Repercussions officially released last month via Wordfire Press and is available for order online here. The book is a biographical, in-depth examination of the words, ideas and professional life of Neil Peart. Birzer was the guest on Episode 511 of the Tom Woods show this past week and spoke about the book, Rush, Neil Peart and libertarianism (thanks Chris M). You can listen to the interview online at this location.
The Rock and Roll Hall of Fame announced the nominees for induction into their 2016 class last week, and among the nominees are prog rock legends Yes. Radio.com posted an article earlier this week on 7 Things We Hope to See at the Rock and Roll Hall of Fame Induction, one of which is Geddy Lee playing with Yes (thanks Out of the Shockwave):
First off, we should say that the thing we really would have love to have seen would have been a massive reunion of current and former Yes members, including former keyboardists Rick Wakeman and Tony Kaye, former guitarist/singer Trevor Rabin, former drummer Bill Bruford and most of all, former singer Jon Anderson. But, tragically, no current or former Yes bass players walk the earth. That's because there was only one, the only guy who played bass in every single incarnation of the band: Yes's "Keeper of the Flame," Chris Squire passed away earlier this year. The band have continued on with longtime associate Billy Sherwood on bass. But Squire himself told this writer that if Yes is inducted, he'd love to see "the Rush guys" do the speech, and we can't think of anyone more suited for that honor. And while Geddy Lee has told this writer that he's not big on jamming, we're sure he'd be honored to sit in for one of his bass playing influences with one of his favorite bands. And prog-rock fans' collective minds would be blown.
The Rush documentary Rush: Beyond the Lighted Stage made Vulture's list of The 50 Best Music Documentaries of All Time this past week, coming in at #41:
During Rush's heyday, the Canadian trio was fiercely beloved by their fans and largely dismissed by rock critics; and while adoring Rush long ago ceased to be a guilty pleasure, the band still has a bit of a chip on their collective shoulder in Sam Dunn and Scot Mcfadyen's Beyond the Lighted Stage. But that works to the doc's advantage, because Geddy Lee, Neil Peart, and Alex Lifeson don't just tell their own story in the film - they defend it, dismissing charges that they started out too pretentious, then became too political, then turned too soft. They come across as intelligent, honest, decent guys, who've always headed off in whatever direction seemed most fruitful and exciting, whether or not any of their followers wanted to come along. It's that kind of artistic integrity onscreen that could make even non-fans into Rush lifers.

The October 22nd issue of Rolling Stone magazine contains an article on British electronic music duo Disclosure, consisting of the siblings Howard and Guy Lawrence. The article contains a sidebar piece on the duo's influences, which include prog-rock, and they share an anecdote about Rush, Geddy Lee and their father:
Howard Lawrence admires Rush's refusal to bend to trends: "Our dad told me that Geddy Lee started wearing skinny jeans when it was cool. Then it became horrifically uncool, now it's cool again. So you've got to keep wearing your own jeans."
You can check out the article on page 22 of the magazine which is available online here (thanks RushFanForever).
Halloween is just around the corner and in celebration of the holiday, Ultimate Classic Rock is running a Rock's Scariest Song bracket contest. Rush's Witch Hunt is in the running and is currently up against Iron Maiden's Fear of the Dark. So go vote for Rush!
Canadian singer/songwriter Jacob Moon garnered the attention of Rush and their fans when he posted a YouTube video of himself performing an impressive rooftop solo rendition of Rush's Subdivisions a few years back. The video quickly went viral, and Rush later asked Jacob to perform the song at their Canadian Songwriters Hall of Fame induction ceremony back in March of 2010. Moon was the guest on this past week's episode of the RushCast podcast and spoke with host Jay Mantis for nearly an hour about meeting Rush, the Subdivisions cover, and more. You can listen to the entire interview online here. Moon just released a new best-of album titled 20 Years: The Best of Jacob Moon, which includes the Subdivisions cover.
MUSICinTheABsTrAcT's (aka MitA) Rush Oddities site has been re-launched at the new domain rushoddities.com. He promises to be uploading some new content in the near future so stay tuned.
This past Monday, October 12th was the Canadian Thanksgiving and CBC Music celebrated by posting a list of sixteen songs that they are grateful for, one of which is Rush's The Spirit of Radio. Speaking of which, the song was also the subject of an article by Becca James at the A.V. Club this past week as part of their Songs with "radio" in the title series. The article is titled Rush captures "The Spirit Of Radio" with an honest ode and you can check it out online here (thanks RushFanForever).
Geddy Lee made a guest appearance via phone on Dan Patrick's syndicated radio and television sports talk show yesterday morning. Geddy talks about attending the Toronto Blue Jays' crazy win over the Texas Rangers Wednesday night, throwing out the first pitch at opening day 2 years ago, singing the Canadian National Anthem at the 1993 all-star game, how being a lead singer compares to being a baseball pitcher, his friendship with Randy Johnson (his photo is the cover of the upcoming R40 Live DVD), his baseball memorabilia collection, and whether Rush is done touring:
... Well, for the most part it's looking like it for the moment I would say. You know - I never say never, and people can change their minds. But it's gonna be hard to get us back out on the road at this point. ... Right now I would say there are no plans to tour. ...
You can watch/listen to the entire interview below or on YouTube.
Congratulations to the Toronto Blue Jays for advancing to the ALCS! That's all for this week. Have a great weekend!