UPDATE - 10/15@11:45AM: Geddy's interview is now available online. Geddy talks about last night's Blue Jays win and the crazy 7th inning, throwing out the first pitch at opening day 2 years ago, singing the Canadian National Anthem at the 1993 all-star game, compares being a lead singer to a baseball pitcher, his friendship with Randy Johnson (his photo is the cover of the upcoming R40 Live DVD), his baseball memorabilia collection, and whether Rush is done touring:
... Well, for the most part it's looking like it for the moment I would say. You know - I never say never, and people can change their minds. But it's gonna be hard to get us back out on the road at this point. ... Right now I would say there are no plans to tour. ...
----- snip -----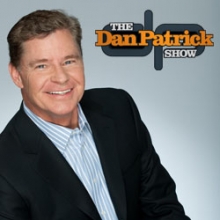 Geddy Lee will be making a guest appearance on Dan Patrick's syndicated radio and television sports talk show this morning at 10:05 according to this tweet from the show's producer Todd Fritz. No doubt Geddy will be talking about the Toronto Blue Jays winning the ALDS last night by beating the Texas Rangers 6-3 in a wild game at the Rogers Centre in front of the hometown crowd, including Geddy himself, who has attended several of the Jays' playoff games so far. You can listen live to the show online at DanPatrick.com. You can also watch the show on the NBC Sports Network or Direct TV's Audience Network. Thanks to Matthew V for the heads up.
@rushtheband Blue Jays fan and RUSH lead vocalist Geddy Lee THU on DP Show 10:05am ET @dpshow @DIRECTV @AudienceNetwork @NBCSN @NBCSports

- Todd Fritz (@brooklynfritzy) October 15, 2015