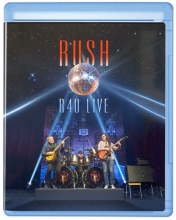 Rush filmed their back-to-back, hometown shows in Toronto on this past summer's R40 Live tour for a future live release, which we learned a few weeks ago would be hitting stores on November 20th just in time for the holiday season. Yesterday Rush revealed all the details regarding the package, which is aptly-titled R40 Live and will be available as 2 DVDs, 1 Blu-ray disc or 3 Audio CDs - along with various combo packages and an optional t-shirt (seen here). The cover art can be seen here and the tracklisting mirrors the Friday, June 19th show setlist, with One Little Victory, Distant Early Warning and Red Barchetta from the June 17th show as bonus material on the DVD/Blu-ray. The CD will also include audio for Clockwork Angels, The Wreckers, The Camera Eye and Losing It with Jonathan Dinklage as bonus material. There won't be any kind of documentary included with the package, so the Rush fan documentary that was filmed during the tour will probably get a separate release sometime next year. A digital version of Roll the Bones (Live) from the CD was released as a preview last week (Amazon, iTunes), on Monday a video preview of Roll the Bones (Live) was released on YouTube, and yesterday Rush posted a 2-minute trailer for the film to their YouTube channel. You can pre-order R40 Live at the following links:
[3-disc CD/Blu-ray Combo]
[3-disc CD/DVD Combo]
[3 Audio CDs]
[Blu-ray only]
[DVD only]
Speaking of the R40 Live tour, earlier this week Billboard Boxscore reported a big batch of official sales and attendance figures for the tour, bringing the total reported dates so far up to 32. The only shows not to report figures yet are the Atlanta, Calgary and Vancouver shows. Judging by the numbers for these 32 shows, the R40 Live tour has been by far Rush's most successful tour in recent memory, with 25 of the 32 shows reported being sellouts and the remaining seven close to it at around 95% capacity. About two-thirds of the shows have grossed well over $1 million, with the June 29th show at Madison Square Garden bringing in a whopping $1,507,393. The May 30th show in Bristow was the most-attended by a wide margin with 16,579 fans in attendance. You can check out the specific numbers for the 32 shows reported in this post or in the tour section.
Rush's vinyl re-issue campaign continued today with the release of Signals on vinyl - the Blu-ray Audio version was released back in August. Rush has been releasing their entire back catalog on vinyl throughout 2015. Next up are Presto and Roll the Bones which are slated to release in two weeks on October 23rd. All titles are high-quality vinyl with a 320kbps MP4 Digital Audio download code, and you can order/pre-order all the various Mercury-era and Atlantic-era reissues using the links below:
AVAILABLE FOR PURCHASE

Fly By Night (01/27/15) - Vinyl | Blu-ray Audio
Caress of Steel (02/17/15) - Vinyl
2112: Hologram Edition (03/17/15) - Vinyl
All the World's a Stage (03/17/15) - Vinyl
A Farewell to Kings (04/21/15) - Vinyl | Blu-ray Audio
Hemispheres (05/19/15) - Vinyl
Permanent Waves (06/16/15) - Vinyl
Moving Pictures (07/24/15) - Vinyl | Vinyl + Large t-shirt | Vinyl + XL t-shirt
Signals (08/14/15) - Blu-ray Audio
Exit ... Stage Left (09/25/15) - Vinyl
Signals (10/09/15) - Vinyl

AVAILABLE FOR PRE-ORDER

Presto (10/23/15) - Vinyl
Roll the Bones (10/23/15) - Vinyl
Counterparts (11/6/15) - Vinyl
Test for Echo (11/6/15) - Vinyl
Grace Under Pressure (12/4/15) - Vinyl
Power Windows (12/4/15) - Vinyl
Hold Your Fire (12/11/15) - Vinyl
A Show of Hands (12/11/15) - Vinyl
Feedback (1/15/16) - Vinyl
Snakes & Arrows (1/15/16) - Vinyl

Rush EUCon 2015 will take place at The Box, Pedley Street in Crewe, Cheshire tonight and tomorrow. Events will include Rush tribute band Counterparts, guest speaker Darren Redick (Planet Rock DJ), Rush-themed games and prizes, a charity auction and more. All proceeds from the event will go to The Brain Tumour Charity, Clic Sargent and the British Heart Foundation. For all the details and to purchase tickets visit Rush EUCon on Facebook and on Twitter.
Fortune magazine ran an article last weekend on the proliferation of touring among aging rock bands, and Rush gets a mention:
... Recently, I revisited Rush's A Farewell to Kings, a 1977 album I hadn't heard in decades. What a flashback it was: the chiming chorus-laden guitar chords, audaciously complex drum workouts, sci-fi sound effects, and epic progressions on tracks like the 11-minute "Xanadu." Even the cheesy state-of-the-'70s synths sprinkled throughout and Geddy Lee's high-pitched vocals brought back warm memories of raptly listening to the LP via headphones jacked into my '70s-vintage Sears combo stereo. It was like time-jumping back to re-encounter my teenage self. The house and the world I inhabited in Massachusetts at the time. The friends I would voraciously listen to records with, back in a pre-earbud era when we actually did that. The nerdy rock-star aspirations the music would soundtrack. It all seems so distant now, but it was a vital experience that molded who I am today. ...

During a recent visit to the Loudwire.com studios, drummer Mike Portnoy (Dream Theater, Winery Dogs, Metal Allegiance) sat down behind a toy Hello Kitty drum kit for a game of Name That Tune and played a couple of Rush tracks as seen in this video at about the 3:20 mark (thanks Greg).
LifeWithDogs.com posted an article (thanks Drew) earlier this week on a homeless pit bull shelter dog named Rush who learned how to make his own bed. The story has an accompanying video with Rush's Fly by Night as the background music.
Halloween is just around the corner and in celebration Ultimate Classic Rock is running a Rock's Scariest Song bracket contest. Rush's Witch Hunt is in the running and is currently up against Ozzy Osbourne's Mr. Crowley. So go vote for Rush!
Reader Pete K let me know that Irish comedian/actor Steve Furst was a guest on yesterday's episode of the UK talk show The Wright Stuff. At one point in the show he told a story about how he once had to write an original poem for a school assignment and ended up using Rush's The Trees. I'm sure many Rush fans out there have pulled that same trick! UK readers can watch the episode online here - the reference comes in right towards the beginning of the show.
Here's the 2-minute trailer for R40 Live along with the online preview of Roll the Bones (Live) from the film:
That's all for this week. Have a great weekend everyone!!