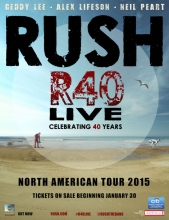 Official sales and attendance figures for Rush's R40 Live tour have been slowly trickling in over the past couple of months and earlier this week Billboard Boxscore reported four more dates, bringing the total number of Rush shows reported so far up to eight. Judging by the numbers for these eight shows, the R40 Live tour has been by far Rush's most successful tour in recent memory, with six of the eight shows reported being sellouts and the remaining two close to it at around 95% capacity. Although official numbers haven't been released yet, it's also been reported that both the Atlanta and Newark shows were sellouts as well, along with anecdotal evidence of several of the other unreported shows selling out. The shows reported so far have grossed an average of well over $1 million, with the June 29th show at Madison Square Garden bringing in a whopping $1,507,393. Both of the sold out Toronto shows were the most attended so far, with crowds of 14,182 each. You can check out the specific numbers for the eight shows reported in tour section. The tour also made Pollstar.com's list of the Top 100 Worldwide and Top 100 North American tours for the first half of 2015, coming in at #27 on the Worldwide list, and #14 on the North American list. Rush's strong July tour numbers pushed their ranking even higher, and Pollstar's updated Top 20 Global Concert Tours list released last week had Rush moving up a few spots to #12.
Back in July BrownTrout Publishers released an official Rush 18-month, 12"x12" wall calendar. The calendar features an opening spread with a six-month (July-December 2015) calendar, along with a full spread for each month of 2016. You can check out a preview of all 13 images included with the calendar here, and order your copy online here. NMR Distribution's official calendar is now also available for purchase. This 12"x12", 16-month calendar has a 2112 theme, and includes a collection of photos from that album. You can get a copy of the 2112 calendar at this location.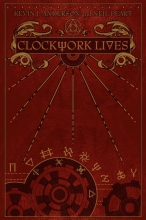 Kevin J. Anderson and Neil Peart's follow-up to their best-selling Clockwork Angels novel is titled Clockwork Lives and is due to release via ECW Press less than two weeks from now on September 15th. It is described as a steampunk Canterbury Tales and will further explore some of the people and places from the Clockwork Angels universe. Anderson already has several signed, hard copy editions available for order via his Wordfire Press website here for $35, and the Rush Backstage Club has made a new sample chapter (The Pickpocket's Tale) from the book available for free download here. In order to promote the book, Anderson is calling on fans to change their Facebook/Twitter avatars to an image of the Clockwork Lives cover. Those who do so can get a free gift from KJA. For all the details check out this post at the Wordfire Press website. You can pre-order Clockwork Lives at this location. The complete graphic novel version of Clockwork Angels is also due to release on September 15th and can be pre-ordered here. A signed, hard copy edition of this book can also be purchased via Anderson's Wordfire Press website here.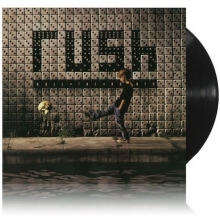 Yesterday marked the 24th anniversary of the 1991 release of Roll the Bones, and in celebration of the event, Tom Johnson at Something Else Reviews gives his thoughts on all the various reissues of the album over the years. Speaking of which, Rush will be releasing vinyl reissues of their Atlantic-era catalog in the coming months, including Presto and Roll the Bones next Friday, September 11th.
Ron Johnson wrote a short little retrospective piece for Post City Toronto this past week, where he looks back on Rush's 40-plus year career, and says thanks to what he calls "easily one of the top musical acts to come out of Toronto". You can check it out online here.
The U.K.'s Official Charts Company, in partnership with Prog magazine, announced this past week that they have introduced a new Official Progressive Albums Chart. In recognition of the occasion, they compiled a list of the top 30 best-selling prog-rock albums of the 21st century and coming in at #11 was Rush's 2112.
Ultimate Classic Rock posted their list of 11 Classic Rock Artists That Shaped Heavy Metal this past week, and coming in at #10 was Rush:
When it comes to popular progressive rock bands, Rush are at the top of the heap. The Canadian power trio's first two albums -- 1974's self-titled and 1975's 'Fly by Night' -- were metal-tinged affairs; the former showcased the band's love of Led Zeppelin and Cream, the latter featured the debut of drummer Neil Peart. It wasn't until 'Caress of Steel' that they veered off into prog territory, clearly showing their intentions with the 20-minute, six-part epic 'The Fountain of Lamneth.'
Sirius XM's Classic Rewind will be airing a special over the holiday weekend with Police drummer Stewart Copeland talking about his favorite drummers:
Rewind this long holiday weekend and celebrate the legendary drummer for the Police, Stewart Copeland, as he spins tracks from some of his most revered drummers from the Classic Rewind Era, including Neil Peart of Rush and Nick Mason of Pink Floyd. Plus, he'll talk about some of his earliest influences, like John Bonham of Led Zeppelin and more!
For all the details and specific air times go here (thanks Asif K).
In celebration of the upcoming Labor Day holiday, the Worcester Telegraph posted a Labor Day Playlist yesterday, which includes Rush's Working Man:
The Canadian rockers' first hit, this one is a bit more of a straight-ahead rock song than some of the band's more algebraic numbers that would come later. There's some excellent Alex Lifeson guitar work, but this is about as down-to-earth as the prog rockers ever get.
In celebration of Kids' Week this past week, CBC Music asked a group of kids to review a selection of Canadian rock songs, one of which was Rush's Tom Sawyer. They played the song for a group of about ten kids ranging in age from eight to eleven, prompting some very hilarious commentary as seen in this video:
This coming week will mark the anniversaries of three Rush releases; Hold Your Fire (September 8, 1987), Signals (September 9, 1982) and Test for Echo. Also, Neil Peart and his wife Carrie Nuttall are celebrating their 15th wedding anniversary next Wednesday, September 9th, and Neil will also be celebrating his 63rd birthday on September 12th! Have a great Labor Day weekend everybody!