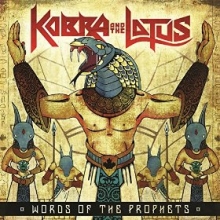 Canadian heavy metal band Kobra and The Lotus will be releasing a new covers EP titled Words of the Prophets on August 28th. The EP contains covers of a number of hard rock songs by fellow Canadian artists, including their take on Rush's The Spirit of Radio, with the title of the EP being a direct lyrical reference to that song. Here's what Kobra and The Lotus frontwoman Kobra Paige told Ultimate Classic Rock:
... "There's no prouder moment than to take on the challenge of covering one of the greatest bands of all time," she says. "Few bands have accomplished what Rush has accomplished, and there will never be another band like them. They opened the door and shaped the way for all musicians to be more creative and brave with their music - and they did it with unrelenting confidence and skill. It is with great honor and respect that we reinforce the message of these virtuosic music monsters and the importance of 'The Spirit of Radio.'" ...
You can listen to the cover below or on SoundCloud at this location.