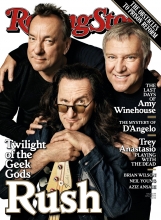 Earlier this month Rush finally made the cover of Rolling Stone magazine; the trio was featured in the July 2, 2015 issue which hit newsstands a couple of weeks ago. The cover story is titled From Rush with Love and Rolling Stone's Brian Hiatt gives a history of Rush interspersed with several interview snippets from all 3 members of the band that were conducted in the few weeks leading up to the R40 Live tour. Today Rolling Stone posted more from their interviews with the band to their website for a piece titled 22 Things You Learn Hanging Out With Rush. The article contains 22 bonus questions not included in the original Rolling Stone article, including this one about the possibility of a Clockwork Angels movie:
"To me, it would make an amazing movie and I thought it would happen organically - that by now somebody would've been at my door with a big bushel of dollars, let's make this happen. And it hasn't. But we've got the graphic novel done and we're building the world and the vision of it. It's astonishing to me, really, that somebody hasn't come to me wanting it. I thought what a great semi-retirement project for the three of us, 'cause Geddy loves cinema, Alex for the soundtrack and me for the story. But I was hoping that's a project that the three of us would undertake at some point."
Lifeson also reveals that he wanted to play Fly By Night on the band's current tour:
"I was rehearsing it," he says. "I thought it would sound great, like a modern version of it would be much heavier and more powerful. I think Geddy felt that he'd really have a problem singing it. He has a challenge with *SPOILER* as it is. "Fly by Night" was just in that range, and we didn't want to drop the key on that one. So the consensus was let's just pass on that."
You can read the entire bonus interview online here
Related Posts:
[Rush Rolling Stone cover feature now available online]
[Rush finally makes the cover of Rolling Stone Magazine]