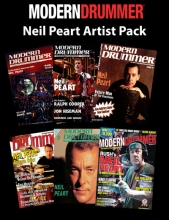 Earlier today Modern Drummer magazine announced the publication of an interactive Neil Peart Artist Pack digital download which contains all of the magazine's Neil Peart articles and advertisements from his first appearance in 1980 up through Peart's 2011 cover feature. From the app description:
This exclusive digital download is more than just an ordinary PDF; it's a chance to experience decades of content on one of the most influential drummers of all time-right at your fingertips. With an interactive table of contents, you can navigate the Artist Pack on your mobile phone, tablet, or desktop computer with ease. You will experience the articles and advertisements as they originally appeared in Modern Drummer magazine, from Peart's first feature in 1980 to the 2011 cover story on the drummer's award-winning three-DVD set, Taking Center Stage: A Lifetime of Live Performance. The Neil Peart Artist Pack includes more than 200 pages of articles about Neil Peart, articles by Neil Peart, cover-story interviews, transcriptions, classic advertisements, and more.
You can watch a short video showcasing the pack here and purchase the download here (thanks Eric at Power Windows).