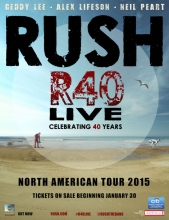 Rush wrapped up the first leg of their R40 Live tour this past Saturday night outside Washington D.C. at the Jiffy Lube Live in Bristow. The first leg of the tour saw the band playing to capacity crowds from Tulsa up into Minnesota, back down through Texas and across the southeastern US. Since then the band has been enjoying a short, 9-day break before they'll pick things back up again this coming Monday at Nationwide Arena in Columbus, OH. The band has been playing their standard 3-hour evening with Rush show format with 2 sets separated by an intermission, pulling out about 25 (depending on how you count them) songs from their 40-year catalog, and alternating between three A-B-C setlist versions (the 3 setlists were confirmed by Alex Lifeson in his recent Classic Rock interview). Each setlist maintains a core of about 20 songs common to every show, with the remaining 5 or so slots changing from night to night and the encore remaining unchanged. They will likely continue this pattern when they start up the 2nd leg in Columbus on Monday, but there's always that outside chance that they will decide to mix things up a bit. There is still one track that the band has been consistently playing in soundchecks that has yet to make an appearance. For more on that, check the spoilers in the Bristow show open thread, and for complete tour coverage for each show, visit the tour page. Earlier this morning Rush finally made official what we've already known for the past month - that they will be filming both Toronto shows on the R40 Live tour for future DVD release. Rush plays 2 back-to-back shows at the Air Canada Centre in Toronto on Wednesday, June 17th and on Friday, June 19th. There are currently a few Rush meet-n-greet and ticket giveaway contests going on. Live Nation launched an #R40Memories Sweepstakes a few weeks ago where the grand prize winner will get a trip for two to Las Vegas to see Rush, complete with a meet-n-greet, air fare, hotel accommodations, merch pack and $200 spending money. They are asking entrants to submit photos of their favorite Rush memories as seen here, although its not a requirement for entry. The contest runs through June 12th and you can get all the details and enter the Sweepstakes at this location. Rush's rights management company Ole (Ole aquired the Rush catalog last year) is also running a contest with Indaba Music for a Rush cover song contest where the winner will get $5,000, 2 tickets and a meet & greet for Rush's August 1st show in LA, and more. The deadline for submissions passed earlier this week and voting is now open through June 16th with the winner being announced on July 7th. I've already shared a number of submissions on Facebook and Twitter, so if you have a submission you'd like me to share, just let me know. The Rush Backstage Club's meet & greet contest is also still going on.
A couple of weeks ago Gibson made available a Limited Edition Alex Lifeson R40 Les Paul Axcess in celebration of Rush's 40th anniversary. Rush officially announced the guitar earlier this week and included some additional information regarding signed versions of the guitar along with a few new photos:
... A run of 50 guitars are hand-signed and played by Alex himself, and an additional 250 guitars are available in unsigned versions-all with 5A quilt maple tops in a lush Ruby Red R40 finish. Both signed and unsigned versions feature a Limited Edition "Starman" R40 die cast medallion covering the Rhythm/Treble Switch access cavity. ...
The guitars are available exclusively at Guitar Center and Musician's Friend in the US and at Long and McQuade locations throughout Canada. For all the details, check out the Rush.com press release, and there's also this video of Alex Lifeson talking about the guitar. Additionally, Prog magazine reported this morning that Guitar Center had spoken with Alex about the guitar and a few other topics, including Rush's future plans, reiterating much of what he said in his recent Classic Rock interview:
... Lifeson tells Guitar Center: "I could still see us going out and doing a special run - a couple of weeks here and there, those sort of things. "We haven't discussed that but, I could see that happening. And possibly making another album or two. We love playing together and we really enjoy that aspect of our relationship." He adds of the members' changing attitudes to life: "After 40 years of being away from family and friends and that life, it's time to review that and see where our priorities lie." ...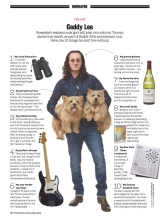 Geddy Lee appears in the June, 2015 issue of Toronto Life magazine for a 1-page feature in the Navigator section titled The List. The subtitle reads:
Geddy Lee: Rosedale's resident rock god will play two sold-out Toronto shows this month as part of Rush's 40th anniversary tour. Here, the 10 things he can't live without
The article then lists 10 of Geddy's most prized possessions alongside a photo of him holding his 2 Norwich terriers, who are number 2 on his list. You can check out a scan of the feature here.
Rush's 12 Months of Rush vinyl reissue campaign will continue a week from this coming Tuesday with the release of Permanent Waves on June 16th. Rush is releasing all of the Mercury-era Rush albums on vinyl along with a few select titles on Blu-ray audio throughout 2015. The 12 Months of Rush will see the band releasing one or two titles a month throughout the year. They started with Fly By Night in January (Vinyl, Blu-ray Audio), Caress of Steel in February, both 2112 and All the World's a Stage in March, A Farewell to Kings in April (Vinyl, Blu-ray Audio), and Hemispheres last month. You can watch a 15-second promotional video for the 12 Months of Rush on the Rush YouTube channel here. All titles are reissued on high-quality vinyl with a 320kbps MP4 Digital Audio download code, with Fly By Night, A Farewell to Kings and Signals also having a Blu-ray Audio release. The rest of the reissue titles will be released throughout the remainder of the year and can be ordered/pre-ordered at the links below:
AVAILABLE FOR PURCHASE

Fly By Night (01/27/15) - Vinyl | Blu-ray Audio
Caress of Steel (02/17/15) - Vinyl
2112: Hologram Edition (03/17/15) - Vinyl
All the World's a Stage (03/17/15) - Vinyl
A Farewell to Kings (04/21/15) - Vinyl | Blu-ray Audio
Hemispheres (05/19/15) - Vinyl

AVAILABLE FOR PRE-ORDER

Permanent Waves (06/16/15) - Vinyl
Moving Pictures (07/21/15) - Vinyl
Exit ... Stage Left (07/21/15) - Vinyl
Signals (08/18/15) - Vinyl | Blu-ray Audio
Grace Under Pressure (09/15/15) - Vinyl
Power Windows (10/20/15) - Vinyl
Hold Your Fire (11/17/15) - Vinyl
A Show of Hands (12/1/15) - Vinyl
Speaking of Rush on vinyl, the April issue of Classic Rock magazine featured 250 Albums You Must Own On Vinyl, and one article focused specifically on Long-Distance Runners - the epic LP tracks that run an entire side and redefine long play. Rush's side-spanning 2112 track made the cut at #29 (thanks RushFanForever):
'For sci-fi-loving teenage nerds, it felt like gazing into a mirror that made us cooler and smarter. Sure, the music rocked, but the thrill was in thinking about big ideas - freedom, art, integrity and conviction.'
We're not even half way through with 2015, but a couple of 2016 Rush wall calendars will be available for purchase next month; one from NMR Distribution and another from BrownTrout Publishers. The cover of the NMR Distribution calendar depicts the 2112 album cover with the words 2016 Wall Calendar under the title. Although the overall theme of the calendar isn't clear, it's a good bet to assume it will feature other iconic Rush album covers in the interior. This 12"x12", 16-month calendar will officially release July 15th and is already listed at Amazon.com, although it can't be pre-ordered as of yet. The Browntrout Publishers calendar is a 12"x12", 18-month calendar with a picture of the Fly by Night album cover on the front. It will be available on July 1st and is already available for pre-order.
MusicRadar.com featured an article earlier this week highlighting 6 pioneers of prog rock drumming, and Neil Peart made the cut at #6.
Uproxx.com posted an article earlier this week where they feature a few of the better (?) Tom Sawyer cover versions currently available on YouTube. You can check out the article on line here.
UDiscoverMusic.com compiled a list of the 100 Greatest Albums of the Rock Era earlier this week and only Rush's 2112 made the cut, coming in at #86 (thanks George R).
The Calgary Sun posted an article today where they Take a tour through some of rock's best live albums and included on their top 10 list is Rush's Exit ... Stage Left:
Rush began the process of recording a live album on their 1981 'Permanent Waves' tour but shelved the idea in favour of a new studio album instead. Probably a good idea because it turned out to be their biggest selling album in the U.S. - 'Moving Pictures'. The remainder of 'Exit... Stage Left' was recorded at a March 27, 1981 show at the Forum in Montreal, QC. during the 'Moving Pictures' tour. Released in the heat of the power trio's prog-rock heyday, this album definitely captures the technical prowess of guitarist Alex Lifeson, bassist/vocalist Geddy Lee and drummer Neil Peart. This album sounds so good that it's sometimes hard to believe it's live.
Guitar Player magazine posted an article earlier this week where they celebrate 25 of the top guitar tracks to come out of 1975 (thanks RushFanForever). One of the featured songs is Rush's Fly by Night:
Alex Lifeson's piercing solo is a soulful infusion of driving blues-rock and demonstrates why he has always been one of prog-rock's most emotive and musical players.
Future User is the new musical project of former Rage Against the Machine and Audioslave bassist Tim Commerford. Commerford recently recruited his former bandmate Tom Morello, along with Geddy Lee and Alex Lifeson to appear in the music video for the band's new track Voodoo Juju. The video is a tongue-in-cheek commentary on the state of healthcare in the US and includes actual footage of Commerford's back surgery. Geddy Lee and Alex Lifeson appear as Canadian surgeons who explain the Canadian healthcare system to Commerford, and then perform surgery on him. From BraveWords.com:
... "Timmy C is not just a great musician, but an artist in the truest sense of the word," says Morello. "His amazing Future User videos are unlike any others in the history of music videos and I'm proud to work with him on his latest. It was a blast hanging out with him and one of our all-time favorite bands, Rush. This new video will likely get us all honorary medical degrees or at least a few comedic acting gigs. The video skewers our broken 'for profit' health care system with great wit and great rock." ...
You can find out more about the video here, and watch it below or on YouTube. Geddy and Alex appear at about the 4-minute mark.
That's all for this week. Rush's R40 Live tour cranks back up in just 3 days! Have a great weekend!!