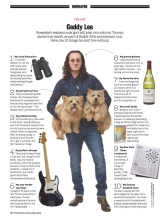 Geddy Lee appears in the June, 2015 issue of Toronto Life magazine for a 1-page feature in the Navigator section titled The List. The subtitle reads:
Geddy Lee: Rosedale's resident rock god will play two sold-out Toronto shows this month as part of Rush's 40th anniversary tour. Here, the 10 things he can't live without
The article then lists 10 of Geddy's most prized possessions alongside a photo of him holding his 2 Norwich terriers, who are number 2 on his list. You can check out a scan of the feature here. Thanks to Eric at Power Windows for the heads up and Barb T for the scan.