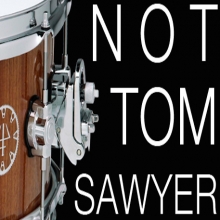 DW Drums is running a Not Tom Sawyer contest where an entrant needs to submit a video of themself playing their favorite Rush song - except Tom Sawyer. The winner of the contest will get a Neil Peart Performance Series Time Machine Snare drum. From DW Drums (thanks Bob A):
In honor of Rush's 40th Anniversary Tour, we invite you to film yourself doing your very best tribute to legendary Rush drummer, Neil Peart. Send us your "Moving Pictures" (aka a video) of you playing along to your favorite Rush song for a chance to win a Performance Series Time Machine Snare!

CONTEST RULES:
Don't send us a "Fly by Night" video. Audio/video quality must be usable. You can use your "Freewill" to pick any Rush track to play EXCEPT "Tom Sawyer." Entries must be received by Friday, May 29th. The winner will be announced on Friday, June 5th. Best submissions will be featured on the DW Facebook page! Be sure to "LIKE" our page and watch for the best "NOT Tom Sawyer" contest entries. Send YouTube/Vimeo/etc links for your submissions to contest@dwdrums.com.

Share your entry with us on social media using #DWPRESENTS Good luck & get "Working Man!" (OK, we admit - the last one went too far)
On a somewhat related note, just a reminder that Rush's rights management company Ole (Ole aquired the Rush catalog last year) is also running a contest with Indaba Music for a Rush cover song contest where the winner will get $5,000, 2 tickets and a meet & greet for Rush's August 1st show in LA, and more.