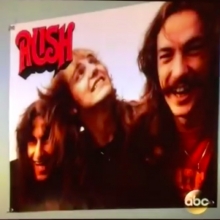 There was a Rush poster reference on tonight's episode of the ABC sitcom The Goldbergs (Season 2, Episode 23 - Bill/Murray). Erica Goldberg (Hayley Orrantia) was in Mr. Glascot's (Tim Meadows) office at school and he described the posters on his wall, one of which was a poster of Rush:
... and that's the band Rush. That's because I'm the cool guidance counselor who shows up at the school basketball games in a casual polo ...
You can watch a video of the scene below or on YouTube here (thanks Matthew V).