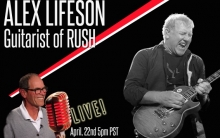 Alex Lifeson will be the guest on Steve Rennie's Renman Live web show this coming Wednesday, April 22nd. The show will stream live at 8PM EST (5PM PST) on the Renman Music & Business YouTube channel at this location. For all the details and to submit a question in advance, visit the Renman Music & Business here:
Legendary Rush guitarist Alex Lifeson joins Renman Live! to talk about his career and the bands upcoming 40th anniversay tour! Let us know if you want to ask Alex a question by posting it below and we will set you up to call in and speak to the legend yourself!
Viewers will also be able to ask questions live on the air by calling the Renman Live hotline at 310-469-9067 during the show. Thanks to RushFanForever for the heads up.