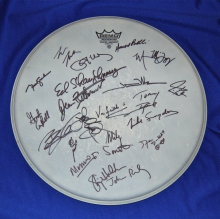 DrumsForCures, Inc. is a non-profit charity organization that produces Drumstrong events to raise awareness and funds for cancer survivorship, education and research globally that support people with cancer and those who love them. They currently have a rare, autographed Neil Peart drum head up for auction to raise money for the charity. From the auction listing
:
Up for auction we have a 14" drum head that was mounted on Neil Peart's first drum kit with Rush (1974 chrome Slingerland). The head features the signatures of 19 celebrities who played on this drum head at PASIC 2009. The head was later signed by Neil Peart himself on 9/26/2010. Please note that this head is not original to the kit, it was placed on the kit during the Pasic International Drum Show in Indianapolis where it was played and signed.
The auction runs through Sunday evening and you can place your bid here
.