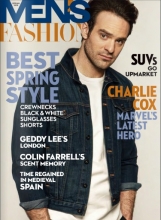 Geddy Lee was interviewed for a short, 1-page feature in the Spring 2015 issue of Men's Fashion magazine titled Stopover: London. Geddy talks about all of his favorite things to do in London, England including his favorite places to eat, drink and see music.
... I spend more time going to the theatre in London than to concerts. But I love Royal Albert Hall (Kensington Gore, royalalberthall.com), and recently saw Jeff Beck and his band there. My wife and I love comedy and end up at the Leicester Square Theatre (6 Leicester PL, leicestersquaretheatre.com) quite often. ...
The entire magazine is available online at this location and you can read the Geddy Lee feature on page 28 (thanks RushFanForever).