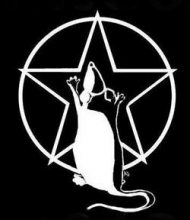 The folks at Rush RatCon announced all the details of this year's Rush gathering(s) last night via Facebook and Twitter. For the first time since its inception in 2009, RatCon will be celebrated on multiple dates and in multiple locations around the US and Canada in celebration of Rush's upcoming R40 Live tour. From the press release:
... RatCon 2015 East will begin on May 29th, culminating with the RUSH show in Bristow, VA on May 30th. The event will begin on Friday at our birthplace, Club Xanadu in Severna Park, MD. Then later that evening it's off to Fish Head Cantina in Baltimore. We are pleased that kRUSH, our 2014 featured tribute band has agreed to play for us again this year! ... On Saturday morning, we re-assemble back at Club Xanadu to continue the festivities. Early in the afternoon, we'll rally a caravan and with the AIRship in the lead, head towards the venue for a huge preshow tailgate party before getting blasted with rocket sauce by the best band in the world.

RatCon 2015 West will begin on July 18th, culminating with the RUSH show in Seattle, WA on July 19th. We'll kick off the festivities on Saturday at the Muckleshoot Casino in Auburn, WA. After a proper pre-funk, we will head inside to Club Galaxy to see Seattle's own power trio, Anthem Rush Tribute. ... On Sunday, we re-assemble at Ozzie's in downtown Seattle, WA for food, drinks, friends and fun. No need for a black sedan, as Ozzie's is just a short walk away from the Key Arena, where we live it all again with the holy triumvirate for another evening.

In addition to the two main events, there will be smaller "RatCon on the Road" parties held on and/or around the day RUSH is playing in multiple cities. Stay tuned, locations and details will be announced soon. ...
You can read the entire press release here, and be sure to keep up on all the latest news by following RatCon on Facebook and Twitter. RushCon 2015 will also be taking place in multiple locations this year, with the main convention taking place July 31st to August 2nd in Los Angeles along with a mini-con held in Toronto on June 19-20th. For all the details visit RushCon.org.