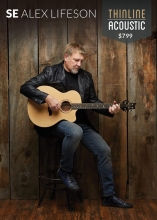 Earlier this afternoon PRS Guitars announced a new Special Edition Alex Lifeson Signature Thinline Acoustic Guitar. You can check out a video of Bryan Ewald demonstrating the guitar below or on YouTube at this location. From the PRS Guitars website:
Carrying over unique appointments from the Private Stock Alex Lifeson acoustic, the SE features a thinner body depth than PRS's standard Angelus model. A "Birds in Flight" inlay adorns the rosewood fretboard and pairs nicely with the unique back and sides crafted from figured Dao wood. Players will find a noticeably warm and resonate tone in the SE Alex Lifeson - even when amplified! An undersaddle pickup with both volume and tone knobs will give you all the control you need from the stage.

"I was very pleased when PRS presented me with my SE Angelus acoustic, a beautiful guitar of stunning quality. It was in response to the challenge of building a guitar that shared the integrity and attention to detail that the Alex Lifeson Private Stock Angelus possesses in a package more broadly accessible. The SE Alex Lifeson Thinline is that model. Carefully selected materials, expert craftsmanship and a smart approach to concept resulted in a guitar that is beautiful to look at and rewarding to play." - Alex Lifeson
You can get all the details at the PRS Website here. Thanks to Eric at Power Windows for the heads up.