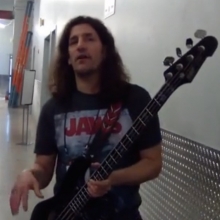 Anthrax bassist Frank Bello was interviewed by Madcap Music Review's John Golden at the NAMM 2015 show this past January, and the interview was posted online a couple of days ago. He spent most of the time talking bass guitars but towards the end of the interview he's asked whether he's excited about Rush's upcoming R40 Live tour. He mentions how Geddy Lee is a huge influence and then says the following:
... I'm going to be doing something [related to Rush's R40 Tour] that I just agreed to within the next month that's pretty cool ... I can't tell you right now ... I'm very excited about it ...
He doesn't elaborate any further so it could be just about anything. The interview was conducted in January so whatever he was going to do, he has likely done it already. Any guesses? You can listen to the entire interview below or on YouTube here (thanks Jeff B). The part about Rush comes in around the 8:15 mark.