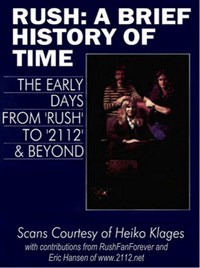 John at Cygnus-X1.net has just posted the twelfth installment of his Rush: A Brief History of Time series where he compiles scans and transcriptions of old Rush articles. From Cygnus-X1.net:
... In this twelfth installment, over 200 new articles and advertisements have been added; 29 from the 1970's, 159 from the 1980's, 3 from the 1990's, 1 from the 2000's and 11 from the current 2010 decade. The majority of the articles in the 1980's fall into the three-year period of 1987 - 1989 where the emphasis of the collection focuses on the releases of Hold Your Fire, A Show of Hands and Presto.

There are also some great, early articles and reviews from the 1970's that focus on 2112 and A Farewell to Kings and, as a special treat, also included is a 1970 review of Neil Peart's then-band J.R. Flood. ...
You can see this latest batch on John's website at this link. Also be sure to check out his chronological listing of all the collected articles from the series at the bottom of the page. Thanks John!