UPDATE - 1/24@11:32AM: Here's a video walkthrough of DW's booth at NAMM, including Neil's new kit at the 1:10 mark (thanks RushFanForever).
The 2015 NAMM Show is currently underway in Anaheim, CA, and the big news from the show for Rush fans was Drum Workshop's unveiling of Neil Peart's new R40 drum kit as seen in this photo, and also here. Drum Workshop also announced that the Neil Peart R40 14x6.5 snare drum will be available for purchase this spring; it's currently listed at All Pro Percussion for $1,499.55 (thanks Andy O). From the description:
In celebration of Rush's 40th Anniversary Tour, Drum Workshop, Inc. (DW Drums) is releasing the Neil Peart R40 snare drum. Just like Neil's R40 touring kit, this DW Icon series snare features exotic inlay artwork from previous Rush albums and gold plated hardware. Each snare includes DW's Mag Throw-Off with 3 position butt plate and a DW Deluxe Snare Drum Bag.

On a related note, Urbann Boards also unveiled their signature Neil Peart drum shoes at NAMM over the weekend as seen here (thanks GornHay).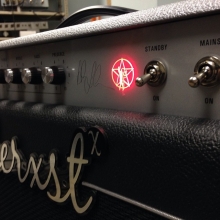 Neil Peart isn't the only member of Rush getting some attention at NAMM this weekend. Lerxst Omega Amps also unveiled their new Alex Lifeson Lerxst Chi combo amplifier:
New from Lerxst Amps. The Lerxst Chi 1x12 combo amp. This little 15 watt beast has all the snarl and growl of its bigger brother, the Omega, but in a lower wattage compact combo. Come by and see it at the NAMM Show in Booth #4599. Email info@lerxstamps.com for info. Shipping mid February. Street Price: $1,795.00.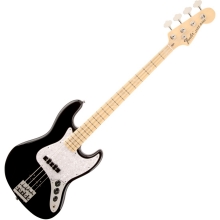 And as I'd mentioned last week, Fender featured their new Geddy Lee signature Jazz bass at NAMM this weekend. Here's the overview from the product description page:
Bassists have loved the signature Geddy Lee Jazz Bass for years. The new U.S.A. Geddy Lee Jazz Bass is a new version that combines the specs and features of Lee's three favorite basses-two Fender Custom Shop versions of his signature model and the original sleek black '72 Jazz Bass that Rush's revered bassist/ vocalist has riffed away on in front of millions of devoted fans worldwide and on many a megaselling album. The neck has a thicker custom profile, topped by a maple fingerboard with elegant white binding and white pearloid block inlays. For enormous tone that crackles with life and bristles with the energy, its two vintagestyle single-coil Jazz Bass pickups are specially wound and voiced to sound like those on Lee's prized 1972 original, and a Geddy Lee signature High-Mass bridge provides rock-solid intonation.