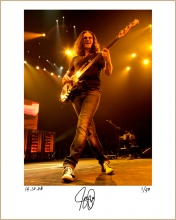 The Andrew MacNaughtan Photographic Arts site recently sent out the following newsletter regarding a Boxing Day sale they'll be running from tomorrow through December 31st:
We are very excited to announce something we have never done before - a Boxing Day Sale! Boxing Day is the Canadian Version of Black Friday. A truly Canadian tradition seems only fitting for a RUSH Print Sale!

As a thank you to all of our loyal customers and fans we are offering a limited time discount on all items still available in the Art Store.

These prices will only be valid From December 22nd - December 31st, 2014 GMT. Please Note that Sale items will NOT arrive in time for Christmas - all sale items will be shipped in the New Year.

This is our way of saying thank you for your continued support during these difficult years after losing Andrew. As we move forward, we want to focus on celebrating his work and those of you that have gotten some joy from it, and what better time to do that than the Holidays.

So head to the Art Store - www.andrewmacnaughtan.net and check out these limited time savings.

Happy Holidays and Best Wishes for the New Year!

Many thanks again to all of you from Andrew's Family and his Rush Family for your continued support and kindness. Being able to share his work with all of you after losing him means so much to us all.