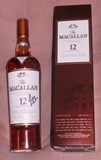 The folks at RUSHfest Scotland are running a world wide raffle to win a 12 year old bottle of The Macallan signed by Neil Peart to raise funds for Macmillan Cancer Support. The bottle comes with a certificate of authenticity and is no longer in production, so it is sure to go up in value. From the RUSHFest Scotland Just Giving page:
... It is a well known fact amongst RUSH fans that Neil Peart's favourite tipple after a show or a bike ride is a 'wee measure' of Macallan! ... To become the owner of this unique signed bottle, RUSHfest Scotland ask that you make a minimum donation of £5 using the donation link on this page. For each £5 donation you will receive one entry to the prize draw. If you would like 2 entries then please donate £10 and for 3 entries, donate £15 and so on. The draw is open worldwide. 'The bottle' will be dispatched securely and insured to the winner's address. We have made a conservative target to raise £1000 but are hoping this will be exceeded. The ultimate target is infinite!!! The draw will be made on 18th April 2015 ...
For all the details and to enter the raffle, just visit www.justgiving.com/rushfest-Scotland. Thanks to Mike S for the heads up.