UPDATE - 11/7@9:24AM: Jeff Woods taped his interview with Neil Peart yesterday and posted this photo of the message Neil wrote in his copy of Far and Near to Facebook. The interview will air the weekend of Nov 15/16 on his Legends radio series.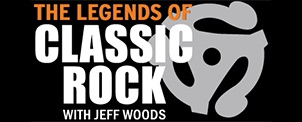 According to this post from earlier today, Jeff Woods will be speaking to Neil Peart for his Legends of Classic Rock syndicated radio show tomorrow (thanks RushFanForever):
I'll be sitting down and speaking face to face with wordsmith/drummer Neil Peart of RUSH, again tomorrow. He's come with his latest book, 'Far AndNear - On Days Like These'. Chronicalling three more years of his life, work, and travels. ... do join me the weekend of November 15 & 16 for my One On One with Peart in an hour of mostly RUSH who come with the retrospective R40 which will commemorate the fortieth anniversary of the release of the band's self-titled debut album. And include five previously released live video albums, as well as various previously unreleased footage spanning the band's career...