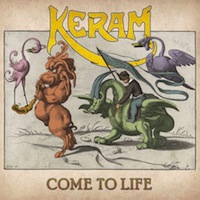 Alex Lifeson continues to keep himself busy with a number of side projects while Rush is taking a break. He attended the Rogers Cup tennis tournament in Toronto last week and took some time to sit down with Tennis Canada's Cameron McLellan to talk tennis for a short, 4-minute interview which you can check out here. Then this past Tuesday night he made a guest appearance at the CD release party at the Supermarket Restaurant and Bar in Toronto for Keram's Come to Life album which Alex executive produced and played guitar on. You can see a bunch of photos from the event at this link and on Keram's official Facebook page. There's also some camera phone video of part of an Alex Lifeson guitar solo from the event. The album is available for digital purchase via a number of outlets including iTunes, Amazon, Bandcamp, and eMusic; and physical copies can be purchased via Amazon or via CDBaby. Alex plays guitar on the 11-minute track The Devil Knows Me Well, Moving Dark Circles, and also on Mary Magdalene, which you can listen to on YouTube at this location.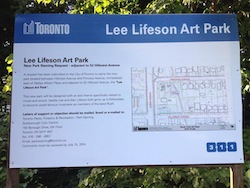 The proposal to name a new, arts-themed park in the Toronto neighborhood of Willowdale the Lee Lifeson Art Park - after 2 of Willowdale's most famous residents - received the green light by the North York community council earlier this week, as expected. The Toronto Star recently spoke with Geddy Lee about the proposed art park and here's what he had to say:
... "I know my mom is very happy!" ... "We met with the park architects and were really impressed with the thought and plans they have for it," ... "[Willowdale] is where I met my best friend and bandmate," ... "We were humbly honoured by the suggestion to name the park after us." ... "On tour and during our travels, ... we get to visit and enjoy so many parks around the world and really appreciate having that communal green space that is so important to a vibrant city."
The idea was first put forth at a consultation meeting held on April 22, 2014 by Councillor John Fillon and was then formally recommended by the Toronto parks committee on July 17th:
... Early designs for the area include art installations, a collaborative performance space and even a small bandshell for "acoustic concerts," according to [Filion], who first hatched the tribute plan two years ago. "I was standing around one night with a fellow music lover trying to think of somebody who had grown up in Willowdale who was a famous artist or musician," Filion said. "We both came up with the name Geddy Lee almost simultaneously." The councillor contacted Lee with the idea, and he immediately got on board - albeit with one condition. "He said he was interested and honoured, but also suggested it be named after Alex Lifeson, too," Filion said. ...
Work is slated to begin on the park early next year with the official opening planned for late 2015 or early 2016.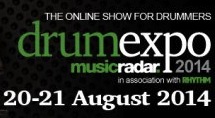 This morning Music Radar in association with Rhythm magazine announced details of their online drum expo that they'll be hosting next week. Drum Expo 2014 will go live next Wednesday and Thursday (August 20, 21) and feature a number of online interviews, drum lessons and more from a some of rock's biggest drummers including Rush's Neil Peart. Other drummers featured include Travis Barker, Tony Royster Jr., Vinnie Paul, Tommy Lee, and Brent Fitz. It's not yet clear at this time exactly what Neil's participation will consist of, but more details should be forthcoming over the next several days.
The 14th annual RushCon will take place at The Great Hall in Toronto next weekend! The convention will consist of 3 days of Rush-filled events, including a Friday night opening mixer at the Chelsea Eaton Churchill Ballroom; Rush tribute band show with Lotus Land; Rush-themed trivia, games, multimedia shows, door prizes, etc.; the Rush charity auction; special guest speakers Howard Ungerleider, Tony "Jack Secret" Geranios, Martin Popoff and Kevin J. Anderson; and more! You can register online at this location. For all the RushCon details just go to RushCon.org, and be sure to follow RushCon on Facebook and Twitter to stay up to date on all the latest RushCon news.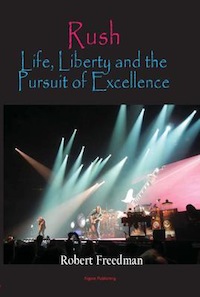 Robert Freedman is an author, journalist, communications professional and keeper of the Rush Vault website who released a new book from Algora Publishing titled Rush: Life, Liberty, and the Pursuit of Excellence earlier this week. Here are some comments about the contents of the 178-page book from the author's website:
... Thanks to the work of lots of other people, including Chris McDonald and Durrell Bowman, whose books and Ph.D. dissertations paved the way for many of us who spend a lot of time thinking about the band's music, I found lots of great work to draw on. The one thing that was missing, in my view, was an overarching narrative that put everything the band has done under a single, unifying theme. It was my intention to do that in my book by showing how all of the band's music can be understood as an expression of classical liberalism rooted in Aristotelian individualism. ...
You can read an excerpt from the book's foreword which I had the honor of writing, and check out an excerpt from an early review of the book by Rush, Rock Music, and the Middle Class author Chris McDonald in this post. The book is available for purchase directly from the publisher, or from Amazon and other online retailers.

An Orange Amplifier signed by a number of rock artists including Rush's Alex Lifeson is included in the Team Rock Monster Auction for charity. The auction will run through the weekend and you get all the details and place your bid here.
Rush came up several times during this past Wednesday's edition of the Adam Carolla Show podcast. They open the show with newsgirl Alison Rosen confessing that she was listening to Rush earlier in the day. They then play a soundbite from a previous show where Alison attempts to hum a Rush guitar lick, and the group makes fun of her. They then segue into a discussion on air guitar contests and how Rush songs are better suited for air drumming contests. You can listen to the podcast online here, and the Rush part of the discussion kicks in at around the 3-minute mark. Thanks to William M, Chris C and Digital2112Man for the heads up.
Reader Dave O let me know that Steven Drozd and Wayne Coyne of the Flaming Lips were featured in an interview on the Dangerous Minds website where they talk about progressive music for around 10 minutes. It's an interesting discussion and Rush gets a mention at about the 1:55 mark. You can listen to interview at this location.

40 years ago yesterday, on August 14, 1974, the current line-up of Rush with Neil Peart on drums played their very first live show, opening up for Uriah Heep and Manfred Mann at the Civic Arena in Pittsburgh. They played a short, 4-song set consisting of Finding My Way, In The Mood, Bad Boy, Working Man and a short Neil Peart drum solo - his first ever as a member of Rush. You can listen to a bootleg recording of the set below or on YouTube. It's a horrible recording but it's all we've got!
That's all for this week. Have a great weekend!