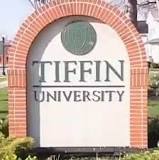 Tiffin University in Tiffin, Ohio will be offering a new course this fall titled Rush: Progressive Rock and Modern Society. From the Advertiser-Tribune:
... [the course will] explore the musical and cultural issues of the 1970s and '80s, according to course instructor and adjunct professor Nathan Santos. Santos proposed the course and is designing the curriculum for the 2014-15 academic year. He said students in the special topics course are to analyze progressive rock, along with its musical elements, lyrical themes, historical, social and cultural content and its significance within the development of popular music styles. The 15-week course, for three credit hours, already is filling up, he said. The course is centered on the music and styles of Rush ... Santos said students are to look at the style changes the band went through over the years and how bands withstand changes to continue to create music. "It is a good lesson for our students who are pursuing a career in the music field," he said. "The band played an important part in our culture and heritage and the commercial music industry." Rush is the focus of the course, but also a starting point, he said. Other topics include literature, philosophy, politics, technology, songwriting, biographys, life on the road and album covers. Santos has been teaching at TU since 1998, mostly music history. ... "I had always thought a course focused on (Rush) would be a neat idea, (but) never had the chance to do it," he said. ... "Rush is trying to communicate a message," he said. "We want to take that and look at where we are today and how we got there."
Thanks to RushFanForever and John at Cygnus-X1.net for the heads up.