UPDATE - 7/25@10:06AM: It looks like both sets are now sold out.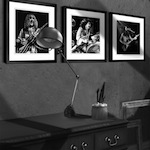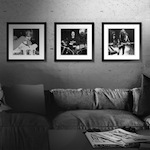 A couple of weeks ago the Rush Backstage Club released two special limited edition Rush photo sets; a Kings Live Set and a Cygnus Live Set. From Rush.com:
The Live Kings Photo Set contains three iconic photographs taken during the A Farewell to Kings Tour by renowned rock photographer Fin Costello. The Cygnus Photo Set contains candid photographs of Geddy and Neil during the A Farewell to Kings Tour and of Alex during the recording of the Hemispheres album also by photographer Fin Costello. Limited to only 50 sets, printed on high-quality photographic paper, each photo has been hand numbered and then signed by the respective band member, and every frame comes with a designated Certificate of Authenticity indicating both the photo and its number in the collection.
For all the details and to purchase the sets, visit the Rush Backstage Club (Live Kings Photo Set, Cygnus Photo Set).