UPDATE - 7/17@11:03AM: Eric over at Power Windows has transcribed the 1-page interview and made it available online here. When asked whether his children are Rush fans here's what Geddy had to say:
I don't think so! I think it was difficult for my son, as a teenage boy in Canada, where we're considered very mainstream. I think it was hard for him at school to be independent, so he tried to create a life away from being my son. He's an academic now and I'm incredibly proud of him. And he's about to become a father himself. I think it was easier for my daughter, as a girl at a girls' school, because they weren't so bothered about Rush and my kind of music.
----- snip -----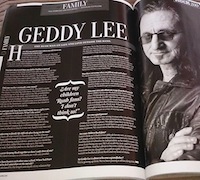 Tomorrow on July 16th, Classic Rock magazine will be releasing a special, 244-page issue to celebrate their 200th edition. The issue will include a short, 1-page interview with Geddy Lee with the tagline The Rush Man on Life and Love Outside the Band where Geddy talks about family. The 200th Classic Rock will be available on newsstands beginning tomorrow and has already started shipping out to subscribers. Facebook user Alan D already received his copy and posted a photo of the feature which you can check out here.