UPDATE - 7/2@8:48AM: Fittingly enough, Geddy Lee celebrated Canada Day by attending yesterday's Toronto Blue Jays game. Ged can be seen in his regular seat behind home plate in this highlight video (thanks Kevin).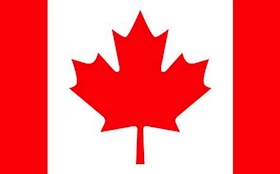 Today is Canada Day - when Canadians celebrate the anniversary of the July 1, 1867 enactment of the British North America Act which united three colonies into a single country called Canada within the British Empire. So happy Canada Day to all of my Canadian readers - especially those 3 Canucks in Rush. In honor of the holiday, a number of Canadian newspapers and news sites have been publishing various lists which celebrate Canadian music and heritage. Last week the Vancouver Courier posted a list of the Top 11 Craziest Canadian Facts that You Need to Know RIGHT NOW, and Rush gets a mention (thanks RushFanForever):
2. Canadians' global reputation for being overly polite is the leading cause of celibacy among Canadians traveling abroad, followed by wearing socks and sandals and having a Rush song as your ringtone.
The Toronto Sun published their ultimate Canada Day playlist over the past weekend and Bob & Doug McKenzie's Take Off featuring a guest appearance from Geddy Lee made the cut:
It may be a novelty tune, but this little comedic gem from the duo's 1981 Great White North album is sure to get at least a few Elsinores flowing. No doubt some of you will be saying, "I remember this one, eh?!"
The Huffington Post Canada also published a Canada Day playlist and - although Rush didn't appear on the main list - Lakeside Park was featured as one of the reader suggestions (slide #29 of 46). They also published a list of the 100 Best Canadian Songs Ever. Unfortunately only one Rush song made the cut - The Spirit of Radio at #87 (thanks ou812112):
One of the all-time classic tributes to the wireless music transmission, Rush's "The Spirit Of Radio" was a worldwide hit from their 1980 album "Permanent Waves." The song was a nod to Toronto alternative radio station CFNY, who were one of the first outlets to play Rush songs.
VH1 also got in on the Canada Day action, posting their list of the top 10 Canadian hard rock and metal bands, with Rush coming out on top at #1:
One of rock's greatest bands and in many ways the group that put Canadian rock on the map, this definitive power trio emerged as proto-metal hard rockers in 1974 before embracing the concept album format with 1976's '2112' and later incorporating elements of new wave and synth rock. Musician's musicians to a man and the ultimate cult band, Rush have sold over 40 million albums over the course of their 40 year career and were inducted into the Rock and Roll Hall of Fame in 2012.
Happy Canada Day! Here's Geddy Lee singing the Canadian National Anthem at the 1993 MLB All-star game: