UPDATE - 6/14@6:01PM: Here are some new radio interviews with Geddy and Alex where they discuss their honorary degrees (thanks RushFanForever).
UPDATE - 6/13@5:28PM: Here's a short interview with Geddy from the North Bay Nugget where he discusses the band's honorary degrees (thanks RushFanForever):
... [It is] very cool, I like it a lot," says Lee. "I can razz my son about it, who is a real doctor. He did it the hard way." ... "I'm very disappointed we weren't able to come," says Lee. "I was really looking forward to it. We asked 'why can't you drop us off at Sudbury?', but the pilot said we couldn't. By the time we got back it was too late for us to drive up." Lee also said was most disappointed about not being able to mingle with the students. ...
----- snip -----
Yesterday afternoon all three members of Rush were awarded Honorary Doctorate of Music degrees from Nipissing University in North Bay, Ontario. The band had planned to attend the ceremony but unfortunately their plane was forced to return to Toronto due to inclement weather. They then attempted to accept the awards via video, but that didn't work either due to technical issues. However, both Geddy Lee and Alex Lifeson did manage to record their acceptance speeches and post the video online (Geddy, Alex). Alex Lifeson was interviewed on the CBC Radio's Points North program yesterday to talk about the honor and all the difficulties they encountered in trying to get there. You can listen to the 8-minute interview online at this location. There's also this YouTube video of the Rush portion of the ceremony.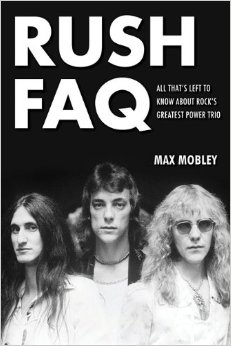 The new book from veteran music writer Max Mobley titled Rush FAQ: All That's Left To Know About Rock's Greatest Power Trio was released last week and is now available for purchase. Mobley has written for a number of music magazines including Crawdaddy! and Premier Guitar, and has interviewed Rush guitarist Alex Lifeson twice. He's also a huge Rush fan and has seen countless Rush shows dating back to the A Farewell to Kings tour. The book comes in at 250 pages and includes a foreword from Donna Halper. You can check out a copy of the introduction in this post and read a couple of 5-star reviews of the book at Goodreads.com. Order your copy of Rush FAQ at this location.
Audio Fidelity's SACD version of Rush's Presto is slated for a July 1st release and is currently available for pre-order. This will be the 3rd Rush SACD release from Audio Fidelity; they've already released versions of both Counterparts and Hemispheres. Like these 2 previous releases, the Presto SACD was mastered by Kevin Gray at Cohearent Audio. You can pre-order your copy at this location.


While touring the Ricky, Julian and Bubbles Community Service Variety Show last year, footage from The Trailer Park Boy's May 9, 2013 performance at the Olympia Theatre in Dublin, Ireland was collected for a concert film. The film was released as a Netflix Original program back on Sunday June 1st in the US and is titled Trailer Park Boys: Live in Fu**in' Dublin. The beginning of the film shows an excited Bubbles tell Ricky and Julian that he has won a Rush internet contest to determine Rush's biggest fan. To enter the contest, Bubbles had Ricky and Julian help him recreate Rush's Closer to the Heart video - kimonos and all - as pictured in this screenshot. Bubbles dresses up as Alex, Julian as Neil and Ricky (with fake nose) is Geddy Lee. A portion of the video shoot can be seen towards the beginning of the film at about the 2-minute mark. Alex Lifeson sends Bubbles a video telling him that he won, and the boys all gather around a laptop computer to watch it at about the 5-minute mark in the film (screenshot here). Alex congratulates Bubbles on the video, but points out that Ricky's performance really sucked. He also informs him that as winners of the contest he and 3 friends will get flown to Dublin in a private jet to see the band's show there along with a $1000 spending money. The film's opening credits then run with Rush's Limelight playing in the background as the guys get on the Rush plane to Ireland. They then get arrested for drug possession after they land and are sentenced by a court to serve community service by throwing a puppet show discouraging drug and alcohol use. The actual live concert footage is then shown starting at around the 19-minute mark. The show includes a partial live performance of Closer to the Heart and Limelight by Bubbles at about the 1-hr, 10-minute mark. At the end of the film they then play the actual Rush video for Closer to the Heart alongside the Trailer Park Boys recreation as the credits run.
Speaking of Alex Lifeson, Denver's Hard Rock Cafe on the 16th Street Mall recently went through a major remodel and got a new collection of nearly 200 pieces of memorabilia including a couple of Rush items courtesy Alex Lifeson. From Denver Westword:
...In the front window there's Rush guitarist Alex Lifeson's monstrous amplifier (one of three he used during the 2010 Time Machine tour). It weighs 460 pounds and took six people to move. Lifeson's Gibson Howard Roberts acoustic guitar is on the second floor. ...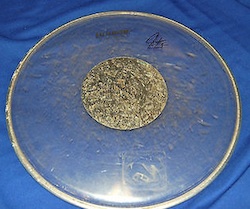 DrumsForCures, Inc. is a non-profit charity organization that produces Drumstrong events to raise awareness and funds for cancer survivorship, education and research globally that support people with cancer and those who love them. They currently have a rare, autographed Neil Peart drum head up for auction to raise money for the charity. From the auction listing:
Up for auction we have a very rare historical piece of music memorabilia for any RUSH fan or collector. An original 12"concert tom drum head that was mounted on Neil Peart's first drum kit with Rush (1974 chrome Slingerland) This head was used during "All the Worlds a Stage" tour and was later signed by Neil Peart himself on 9/26/2010. A Certificate of Authenticity will also be provided.
For all the details and to place your bid, visit the eBay listing page. The auction runs through this coming Sunday, June 15th.
Adrien Begrand at Stereogum posted an article earlier this week where he ranks all 20 of Rush's studio albums from best to worst. Heading up the list were Signals at #3, 2112 at #2 and Moving Pictures in the top spot. The bottom 3 were Roll the Bones at #18, Caress of Steel at #19 and Test for Echo took home the prize for worst Rush album. There's no doubt that many Rush fans will disagree with this list but - to his credit - the author does write extensively about each album on the list and why he ranked it where he did. You can check out the full list at this location. He also includes a quick ranking of Rush's live albums, with All the World's a Stage coming out on top. From my experience, it seems there's more agreement among Rush fans regarding which Rush albums are the best (Moving Pictures, 2112, etc.), rather than which are the worst (although even the worst Rush album is better than most of the stuff out there). Along these lines, I've decided to take the bottom half of the Stereogum album rankings and ask readers which of those albums is their favorite. I took out Feedback (since it's a covers EP and not technically a studio album) and Vapor Trails because last year's remix muddies the waters a bit (rankings are likely to differ wildly depending on whether asking about the original or the remix). Take the poll and let us know!
Country singer Tim McGraw has stated in the past that he's a big Rush fan. He's currently on tour and made a stop at the Klipsch Music Center in Indianapolis earlier this week and showed just how much of a Rush fan he is by wearing a Rush Hold Your Fire t-shirt during his performance. Several bootleg videos of the show where the t-shirt can be clearly seen are available on YouTube such as this one.
If any of you are members of the professional social networking site LinkedIn, you may already be a member of the LinkedIn Rush fan group. Jason Turk started the group a few years back when he joined LinkedIn and it has since grown to over 700 members. In the interest of wanting to take the group further, but not having the time to do so, he recently asked me if I'd be willing to take over ownership of the group and I had no problem accepting. I will strive to keep it updated with all the latest Rush news and information, and welcome all the other members to do so as well. So if you are on LinkedIn, please join the group. Thanks Jason!
Here are Geddy and Alex giving their acceptance speeches via video after receiving Honorary Doctorate of Music degrees from Nipissing University yesterday (Geddy, Alex).
That's all for this week. To all the Rush Dads out there - including Geddy, Alex and Neil - have a wonderful Father's Day! And speaking of Geddy Lee and fatherhood, it looks like Geddy's son Julian recently became a new father. According to this short post from 92 Citi FM's Howard Mandshein last week, Geddy Lee has become a grandfather for the first time and now has a grandson named Finean (thanks RushFanForever). Have a great weekend!