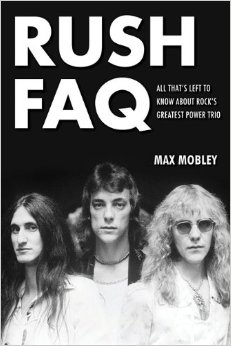 The new book from veteran music writer Max Mobley titled Rush FAQ: All That's Left To Know About Rock's Greatest Power Trio began shipping from Amazon and other retailers earlier this week and is now available for purchase. Mobley has written for a number of music magazines including Crawdaddy! and Premier Guitar, and has interviewed Rush guitarist Alex Lifeson twice. He's also a huge Rush fan and has seen countless Rush shows dating back to the A Farewell to Kings tour. The book comes in at 250 pages and includes a foreword from Donna Halper. You can check out a copy of the introduction in this post and read a couple of 5-star reviews of the book at Goodreads.com. Order your copy of Rush FAQ at this location.

Nipissing University in North Bay, Ontario recently announced that they will be bestowing honorary degrees to all three members of Rush along with 6 other Canadians as the university celebrates the 2014 graduating class next week. It wasn't made clear in the announcement whether or not one or more of the band members will be attending the ceremony.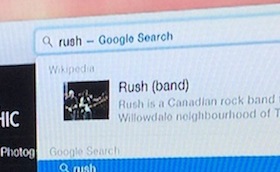 The Apple Worldwide Developers Conference (WWDC) 2014 took place this past week in San Francisco, and in Monday's keynote presentation Apple introduced a number of new features in both OSX and iOS, including some new Safari browser search features. When demonstrating these features, Apple senior vice president of Software Engineering Craig Federighi typed rush in the search bar and Rush's Wikipedia page came up as a suggested location. You can watch the Rush reference in Apple's video of the event online here at about the 28-minute mark and check out a screenshot here. Federighi is a big Rush fan and also used Rush as an example during an Apple special event back in September when demonstrating to the audience how to make an iTunes radio station.

We learned back in February that Neil Peart and Kevin J. Anderson's Clockwork Angels: The Watchmaker's Edition had been nominated for an Audie Award (Audie) which recognize excellence in audiobooks and spoken word entertainment. The winners were announced at the Audies Gala last Thursday evening at the New York Academy of Medicine in New York City and Clockwork Angels: The Watchmaker's Edition came away with the win in the category of Package Design. You can check out the full list of winners in this Washington Post article. The Clockwork Angels: Watchmaker's Edition of the audiobook for Clockwork Angels: The Novel was released last March. The special package was designed by Hugh Syme and contains the seven CDs of the unabridged audiobook, a special booklet, a Clockwork Angels timeline, and an I can't stop thinking big mini poster, all packaged in a full-color WORKING clocktower. You can order one for yourself on Amazon here.
Over the past several weeks Ultimate Classic Rock has been running a bracket-style poll to determine the next inductee into their Ultimate Classic Rock Hall of Fame. Rush was one of the nominees this go-around and after narrowly defeating Judas Priest, Journey and Kansas over the past few weeks they were officially inducted into the UCR Hall of Fame earlier this week. The last round against Kansas was especially close but Rush ended up winning with 50.8% of the vote. Congratulations to Rush and everyone who voted. Consequence of Sound has also been running a bracket-style poll over the last few weeks in order to determine the Greatest Drummer of All Time. Neil Peart made it to the final round after defeating Mitch Mitchell, Keith Moon and Mike Portnoy, where he was pitted against the legendary John Bonham. Voting ended last Friday at 5PM and Neil ended up defeating Bonzo with a whopping 87% of the vote. You can check out the complete results here.
San Francisco Chronicle pop culture critic Peter Hartlaub describes himself as the San Francisco Chronicle's biggest Rush fan and this past Wednesday he posted an article titled Driverless cars and Red Barchettas: Did Rush predict a Google-controlled future? In the article Hartlaub performs a tongue-in-cheek analysis of Rush's Red Barchetta as it relates to Google's recent unveiling of the latest version of its driverless vehicle, a two-seater that has no steering wheel or other driver controls. On a related note, The Marist College Circle recently posted a Commuter's guide to great driving music and chose Rush's Tom Sawyer as one of the songs highlighted:
... Instead of screaming and cursing at the cars around you, a more sane activity is to participate in the classic art of steering wheel drumming. It's like having a full drum kit right in front of you, and a full kit is necessary if you want to rock out like Rush's Neil Peart. Widely regarded as one of rock's greatest drummers, Peart crafted the ultimate car drumming song with 1981's "Tom Sawyer," one of the band's most accessible and well-known tracks. The song contains everything from a steady beat, to a drum solo, to a section of 7/8 time-the perfect components to jam along to on the wheel while stuck in traffic.
VH1 posted their list of the 10 Most High-Pitched Singers In Heavy Metal And Hard Rock earlier this week and Geddy Lee made the cut at #7. Here's what they had to say:
The Rush bassist is a natural tenor, and though he doesn't always go for the highest of high notes, he isn't afraid to let it fly to put a song over the top, such as on the classic rock radio standard "Closer To The Heart".
Speaking of Geddy Lee, Anthrax bassist Frank Bello was recently interviewed for Ultimate Guitar and talked about how he grew up without a father and instead saw Steve Harris, Geddy Lee and Geezer Butler as surrogate dads:
... my heroes were bass players. I guess everybody needs somebody to look up to. I didn't grow up with a dad so my heroes I guess - or whatever you want to call them - heroes or father figures, guys to look up to that gave me a goal were my bass player guys. I call them Steve Harris, Geddy Lee and Geezer Butler. Those guys made me want to play bass. ...

CBS Sports writer and music junkie Matt Norlander tweeted out a challenge earlier this week where he created a list of rock stars and assigned a dollar amount from $1-10 to each one. He then asks the Twittersphere to create a 5-piece fictional rock band by spending $25. Geddy Lee is on the bass player list with a value of $7, and Neil Peart topped the drummer list with a $10 assigned value. Thanks to dman2332 for the heads up.
This coming Thursday, June 12th will mark the 2nd anniversary of the release of Rush's Clockwork Angels album. Can you believe it's been 2 years already!? To celebrate, here's video of a Clockwork Angels album Q&A session with Geddy Lee and Alex Lifeson hosted by Jeff Woods from around the time of the release. You can check it out below or at this link:
That's all for this week. Have a great weekend Rush fans!!