UPDATE - 5/31@9:04AM: The Consequence of Sound bracket poll to determine the Greatest Drummer of All Time that I mention below ended yesterday at 5PM and Neil Peart ran away with the victory, defeating John Bonham with 87% of the vote.
Rights management company Ole announced earlier this week via a press release that they had purchased Core Music, the 40-year home of Rush's music publishing, and will be handling the music publishing affairs of the band for the foreseeable future. From the release:
... Says ole Chairman and CEO Robert Ott, "ole is very honored to have been chosen by Rush to manage their incredible living legacy and to be a partner in their ongoing creative journey in music publishing. ole looks forward to working hard to ensure that Rush's music continues to find new and wider audiences."

Geddy Lee, singer/bassist of Rush, said, "We are pleased with the news of Core Music's deal with ole and happy that our publishing will be handled by a Canadian company with worldwide expertise."

"With the changing times in the music business, the responsibilities of a publisher have become much more complex. This deal will allow me to devote my time and energy to managing the live touring and recording aspects of Rush's ongoing career," said Ray Danniels, President of SRO/Anthem and Rush's longtime and only Manager. ...
Ole CEO Robert Ott declined to comment on the exact terms of the deal but did tell Billboard the following:
... "I am not going to talk about money, unless we are going to talk about 'Big Money,'" the opening track on Rush's 1985 album, "Power Windows." ... Ott noted that the catalog could produce greater revenue and profits because "there hasn't been a lot of synch business in the past...There is more openness to exploring opportunities on that side now." But he added that ole would be "very careful about the ideas we bring to the table to promote their music." Beyond synch, Ott says there might be more ways to work the catalog outside North America, too. "This band has a worldwide audience," Ott notes. "We will look for opportunities everywhere the band has toured." Finally, Ott notes that he is proud ole was chosen to cultivate the Rush catalog going forward. "It's not every day you get to work with a catalog that made up the soundtrack of your life," Ott says.
It's not completely clear what all of this means to Rush fans except that it's likely that we will be hearing more Rush music in commercials, movies, video games, TV shows, etc. in the coming months/years.
After nearly 4 years without any certifications, Rush's 2 most recent concert videos were certified Platinum by the RIAA this past May 14th. Time Machine 2011: Live in Cleveland was certified both Gold and 2X Platinum, and last year's Clockwork Angels Tour was certified Gold and Platinum. A Gold certification in the Music Video Longform category requires sales of 50,000 units while Platinum certification requires 100,000 unit sold. Prior to that, the last batch of certifications they received was back in September of 2010 for their videos R30, Rush in Rio and the Rush documentary Beyond the Lighted Stage. Rush has not received a certification for a studio album since August 31, 2001 when Roll the Bones was certified Platinum.
We learned earlier today that Neil Peart will be releasing the follow-up to his 2011 book Far and Away: A Prize Every Time via ECW Press this coming Fall on October 14th. The book will be another collection of his blog posts from the past few years and is titled Far and Near: On Days Like These. From the Amazon description:
Whether navigating the backroads of Louisiana or Thuringia, exploring the snowy Quebec woods, or performing onstage at Rush concerts, Neil Peart has stories to tell. His first volume in this series, Far and Away, combined words and images to form an intimate, insightful narrative that won many readers.

Now Far and Near brings together reflections from another three years of an artist's life as he celebrates seasons, landscapes, and characters, travels roads and trails, receives honors, climbs mountains, composes and performs music. With passionate insight, wry humor, and an adventurous spirit, once again Peart offers a collection of open letters that take readers on the road, behind the scenes, and into the inner workings of an ever-inquisitive mind.

These popular stories, originally posted on Peart's website, are now collected and contextualized with a new introduction and conclusion in this beautifully designed collector's volume.
A hard-cover edition of the book is currently available for pre-order at this location.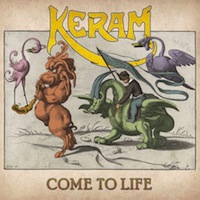 Canadian-born actor and musician Keram Malicki-Sanchez has collaborated with Alex Lifeson and 20 other renowned artists for his Come to Life album which was officially launched via a listening party for Indiegogo contributors Wednesday evening in Toronto. The album is now available for digital purchase via a number of outlets including iTunes, Amazon, Bandcamp, and eMusic; and physical copies can be purchased via CDBaby. In addition to playing guitar on the album, Alex Lifeson is also executive producer. The album's cover art and tracklisting can be seen in this Exclaim.ca article along with a preview of the 11-minute track The Devil Knows Me Well - which features Alex Lifeson on guitar. You can listen to the preview online at this location. Malicki-Sanchez discusses the project and Lifeson's contribution in this YouTube video (at about the 2:35 mark).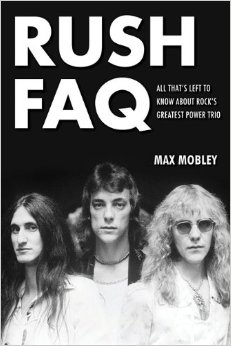 A new book from veteran music writer Max Mobley titled Rush FAQ: All That's Left To Know About Rock's Greatest Power Trio is set to release in the next couple of weeks. According to the author, it will likely begin shipping from Amazon and other online retailers as early as next week. Mobley has written for a number of music magazines including Crawdaddy! and Premier Guitar, and has interviewed Rush guitarist Alex Lifeson twice. He's also a huge Rush fan and has seen countless Rush shows dating back to the A Farewell to Kings tour. The book comes in at 400 pages and you can check out a copy of the introduction in this post. There are already a couple of 5-star reviews of the book posted over at Goodreads.com. You can order your copy of Rush FAQ at this location.
After narrowly defeating Journey in the previous round, Rush went up against fellow prog rockers Kansas in the final round of Ultimate Classic Rock's Hall of Fame contest. Voting is open through this coming Sunday, June 1st and it's a tight race, so go vote for Rush! You can vote once per hour. And Consequence of Sound is running a bracket poll to determine the Greatest Drummer of All Time and Neil Peart has made it into the fourth and final round where he's up against the legendary John Bonham. To place your vote just visit this location.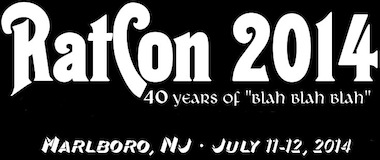 This year's annual RatCon 2014 Rush fan convention will be held on July 11-12 at the newly dubbed Club Carnie in Marlboro, NJ. The event's tagline is Forty years of "BLAH BLAH BLAH" and it will include a heated pool, Rush-themed food and beverages, contests, prizes, a live Rush tribute band and more! Earlier this week the RatCon organizers opened up registration for the event via their website and announced that the tribute band for the convention will be Delaware's own kRush. For all the details and to secure your spot at the event, visit the RatCon website and follow RatCon on Facebook.
Pro Ultimate Frisbee team The Toronto Rush are the first Canadian franchise in the AUDL (American Ultimate Disc League) and ended up going undefeated and winning the AUDL championship in their inaugural season last year. According to this Toronto Star article, the team is named after our favorite Canadian power trio. They put together a really cool highlight reel from their home opener earlier this month which features the music of Rush as seen here (thanks John "Wheels" H).
Reader AnotherPairOfEyes discovered a Rush reference in Frederick Reiken's 2001 novel The Lost Legends of New Jersey. It's a coming of age story set in the New Jersey suburbs of the early 1980s. In the chapter Lost Meadows the characters are driving home from a Rush concert, and have a lengthy discussion about Red Barchetta.
The Guardian music blog's 10 of the Best series featured Rush this past week, where they presented their list of 10 of the Best Rush songs. It's an eclectic list that includes such songs as By-tor and the Snow Dog, Afterimage and The Garden. You can check out the full list online here.
There were some articles floating around the Interwebs this past week regarding a list of singers with the greatest vocal range that ConcertHotels.com had published. Based on their limited criteria it determined that Guns 'N Roses frontman Axl Rose had the widest range. VVN Music dug a little deeper and loosened the criteria for inclusion and instead found out that Faith No More's Mike Patton had the widest range, covering an impressive 6 octaves. Geddy Lee was included on the expanded list with a range of 3 octaves, 4 notes. You can check out the full list at VVN Music here (thanks RushFanForever).
Speaking of Geddy, St. Louis Today reported this past weekend that a very rare piece of baseball memorabilia owned by Geddy Lee would be making a visit to Busch Stadium in St. Louis this week during the Cardinals series with the New York Yankees. The memorabilia in question is a ball signed by nearly all of the baseball players who are members of the 3000-hit club including Ty Cobb and Hank Aaron. Geddy apparently asked Cardinals equipment manager Rip Rowan to get the signatures of Derek Jeter and Ichiro Suzuki to add to the ball, although it's not yet clear if he was successful. Lee purchased the ball to add to his collection, and has added signatures to it so that it may be the only baseball held by both Cobb and Clemente.
Keeping on the subject of Geddy Lee's baseball obsession, this past Tuesday night rapper 50 Cent threw out the first pitch at the Mets game and was way off target as seen in this viral video. This inspired Rolling Stone to post a list of The Best and Worst First Pitches by Musicians, and Geddy Lee's epic first pitch at the Blue Jays home opener last year made the best of cut:
Geddy's not only a prodigious bassist, he's also an obsessive baseball fan. So of course, when he was asked to throw out the first pitch at the Toronto Blue Jays' 2013 opener, he delivered the goods. It started with his power-walk to the mound, then continued right through his pitch (solid mechanics, man!) As an added bonus, we're 100-percent sure he wore his own glove for the occasion. Also, by tossing a strike, he instantly contributed more to the team than the guy catching him, oft-injured pitcher Brandon Morrow.
Last night the West Seneca (New York) East High School concert band performed the world premiere of an eight minute symphonic medley of Rush songs titled All The World's A Stage. The medley includes Tom Sawyer, YYZ, Closer To The Heart and 2112 Overture/Finale. Representatives from Rush's management (Anthem/SRO) were in attendance for the premiere and apparently the musical score will be published by Core Music Publishing (the music publishing division of Anthem that was recently sold to Ole) and soon will be available to bands everywhere (thanks Eric at Power Windows). Here's some video of the performance courtesy Ken Hoffman:
That's all for this week. Have a great weekend everybody!!