UPDATE - 5/23@1:58PM: It now looks like the Presto SACD will be releasing on July 1st according to Amazon.
With the band being on an extended break, there's not much in the way of Rush news to report lately. However, we do have a couple of new Rush items coming down the pike, both of which are slated for a June 17th release. Author and veteran music writer Max Mobley will be releasing his new Rush book Rush FAQ: All That's Left To Know About Rock's Greatest Power Trio, and Audio Fidelity will unveil their SACD version of Rush's Presto. Rush FAQ author Mobley has interviewed Rush guitarist Alex Lifeson twice and seen countless Rush shows dating back to the A Farewell to Kings tour. His new book comes in at 400 pages and you can check out a copy of the introduction in this post and pre-order your copy of Rush FAQ at this location. Presto will be the 3rd Rush SACD release from Audio Fidelity; they've already released versions of both Counterparts and Hemispheres. Like these 2 previous releases, the Presto SACD was mastered by Kevin Gray at Cohearent Audio. You can pre-order your copy at this location.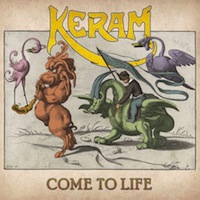 Canadian-born actor and musician Keram Malicki-Sanchez has collaborated with Alex Lifeson and 20 other renowned artists for his upcoming Come to Life album. The album was funded through an IndieGogo campaign and will be released this coming Wednesday, May 28th in Canada on Constant Change Music. In addition to playing guitar on the album, Lifeson is also executive producer. The album's cover art and tracklisting can be seen in this Exclaim.ca article along with a preview of the 11-minute track The Devil Knows Me Well - which features Alex Lifeson on guitar. You can listen to the preview online at this location. The album will be launched with a Toronto listening party for Indiegogo contributors on May 28th. It will then be made available on Bandcamp, through digital retailers such as Amazon, and on CD through CD Baby. You can find out all the details including how to secure your own copy of Come to Life on the IndieGogo page here. There's also this YouTube video where Malicki-Sanchez discusses the project and Lifeson's contribution (at about the 2:35 mark).
Speaking of Alex Lifeson side projects, guitarist John Wesley's latest album Disconnect released early last month and Lifeson makes a guest appearance, playing a guitar solo on the track Once a Warrior. Wesley is best known to Rush fans as the touring guitarist for Porcupine Tree. Wesley and his band recently finished off an East Coast tour in support of the album and a video from one of the band's live performances of Once a Warrior - including Wesley's tackling of Lifeson's solo - can be viewed on YouTube at this location. Wesley was recently interviewed by Tripp Lanier for his New Man Podcast, and he speaks at length about how he met Alex Lifeson and how Alex came to appear on Disconnect. You can listen to the interview online here and order your copy of Disconnect here.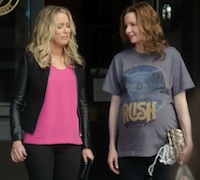 There was a Rush reference in the latest episode of the new USA Network show Playing House (Season 1, Episode 5 - Drumline) which aired Tuesday night. Lead character Maggie attends her high school drumline reunion where she reconnects with an old crush who her friend Emma and her refer to as the guy in the Rush t-shirt. Later at the reunion the guy is shown wearing a Rush Fly By Night t-shirt as seen in this screenshot. The girls end up getting arrested and when Rush t-shirt guy picks them up from jail in his van Maggie is now wearing the Rush t-shirt as seen here. In the final scene of the episode they then play Limelight in the background and on through the ending credits. You can watch the episode online at this location.
RIAB reader Derek Hale is a contributor to Kuyperian Commentary, which is a site devoted mainly to a Christian audience discussing politics, culture, Christian theology, truth, beauty, goodness, etc. Lately he's been writing an on-going series of posts on why Christians should listen to and enjoy prog rock, focusing on the foundational five albums that his readers should purchase and listen to. Rush's Moving Pictures is the third of the five and you can read his take on the album at this location.
After narrowly defeating Journey last week, Rush is now up against fellow prog rockers Kansas in the final round of Ultimate Classic Rock's Hall of Fame contest. Voting is open through next Sunday, June 1st so go vote for Rush! And Consequence of Sound is running a bracket poll to determine the Greatest Drummer of All Time and Neil Peart has made it into the fourth and final round where he's up against the legendary John Bonham. To place your vote just visit this location. When presented with this very same question (Peart or Bonham) drummer Vinnie Paul (Pantera, Hellyeah) chose Bonham in a recent Lubbock Avalanche-Journal interview, although it was a tough choice for him: "Oh man, that is hard, I love them both but I have to pick Bonham. No one in rock 'n' roll has had the same feel since.".
Drummer Glenn Stuart of the B Street Band recently dropped by the NJ 101.5 studios to promote their appearance at the Big Jersey BBQ and at one point got into an argument with DJ Steve Trevelise over the pronunciation of Neil Peart's last name. The topic of the hour was Who's your favorite drummer? and when a listener called in to talk about Neil Peart is when the argument ensued. Trevelise was on the right side of the argument, correctly pronouncing Peart's name with a long e. You can listen to the exchange online at this location.
Framed memorabilia design company Frameworth recently entered into a partnership with Rush as their exclusive distributor for framed memorabilia and are now offering a new line of high-quality framed Rush posters and Gold/Platinum albums as seen here.
Back on Wednesday, March 5th American Idol contestant Caleb Johnson called Rush his favorite band of all time and then proceeded to belt out a truncated, 2-minute version of Rush's Working Man as his choice of song for the show's Home Week, impressing both the fans and judges with his soulful performance. This past Wednesday night on the show - nearly 3 months later - Johnson was crowned the winner of American Idol's 13th season. You can watch Caleb's introductory segment and performance of Working Man below or at this location. In the beginning of the segment Caleb explains his choice of Working Man for his Home Week song, telling stories about his hometown and the personal relevance of Rush and the song to him. He concludes his segment by saying that, I'm really excited and thrilled to sing some Rush on American Idol. There's also this post-show interview with Caleb where he responds to the judge's comments and talks about his love of Rush. Johnson will be releasing a solo album this August.
That's all for this week. For all of my fellow US readers, have a great Memorial Day weekend. And a belated happy Victoria Day to all the Canadians. The historical Victoria Day as immortalized in Rush's Lakeside Park takes place tomorrow on May 24th ("... everyone would gather on the 24th of May..."). Have a great weekend and stay safe everybody!!