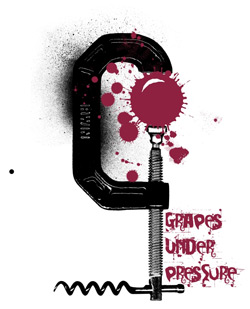 Grapes for Humanity is an organization that helps to raise funds to benefit humanitarian causes around the world with the assistance of the international wine community, and Geddy Lee is a member of the board of directors. In recent years he and Alex Lifeson have conducted a number of charity auctions to raise money for the organization as part of an initiative that they cleverly call Grapes Under Pressure. This year they are auctioning off a Grapes Under Pressure Wine Event where the winner and a guest will get to hang out with Geddy and Alex for a day. From the Charity Buzz website (thanks Pat M):
Spend an entire day with Geddy Lee and Alex Lifeson of the Canadian rock band RUSH and have a wonderful wine experience! You and a guest will travel with Lee and Lifeson on a private train to the Niagara winery region outside of Toronto. Your day will include breakfast, picking and learning about grapes, a wine tasting, lunch on the vineyard and a 2-night stay at a Royal York Hotel in Toronto. This package is perfect for wine lovers and fans of RUSH!
You can learn all the details and place your bid at this location. Bidding will run through April 23rd.