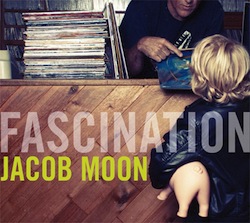 This past November Canadian folk musician Jacob Moon released his latest CD Fascination which includes covers of Rush's Limelight and Subdivisions. The album also includes covers of songs from Yes, Marillion, Radiohead and Peter Gabriel, along with two new original songs. Jacob recorded Limelight with the Alex Lifeson-produced David Barrett Trio and you can hear the entire track on Soundcloud here. Jacob was recently interviewed for Christian Week and talks a little about the album:
... "I wanted to pay homage to the bands that made my career possible," ... "Marillion gave me a boost, Rush gave me a boost ... I've just been really helped by my heroes, which is kind of an odd thing, but they've pushed my career along." Moon ... says his goal with Fascination was to take other people's songs and perform them in a way that his fans would recognize as true to his own sound. "In each case, I've twisted [the song] a little bit," he says. "I think it's an enjoyable thing to hear, when you perform a song in a unique and compelling way-in a way that reveals layers of the song that maybe had been hidden before." ...
Moon typically performs as a solo act but will be embarking on a short tour through southern Ontario, B.C. and Alberta over the next several weeks with a full band, beginning with a free show at the King St. Church in Oshawa, ON this Friday, March 7th. For all the latest news on the album and tour, visit Jacob Moon's website or follow him on Facebook. You can check out some in-studio footage where Jacob and David Barrett talk about The Trio's work with Alex Lifeson, the Limelight recording and more at this link. Jacob Moon garnered the attention of Rush and their fans when he posted a YouTube video of himself performing an impressive rooftop solo rendition of Rush's Subdivisions a few years ago. The video quickly went viral, and Rush later asked Jacob to perform the song at their Canadian Songwriters Hall of Fame induction ceremony back in March of 2010. A slightly different arrangement of this cover of Subdivisions is also included on Fascination and can be heard online here. Thanks to RushFanForever for the heads up.