UPDATE - 2/27@10:45AM: The folks at Rush RatCon 2014 have also announced the dates and locations of their 6th annual Rush gathering. RatCon 2014 will be held on July 11-12 at the newly dubbed Club Carnie in Marlboro NJ. More details to follow. Just visit the Facebook page for details and updates.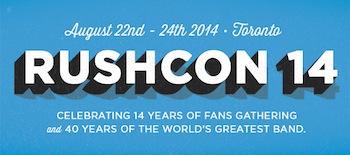 The folks at RushCon have announced the location and dates for this year's RushCon. The 14th RushCon will take place in Toronto the weekend of August 22-24. From the announcement:
Enjoy 3 days of Rush-filled festivities, including games, prizes, trivia, a memorabilia charity auction, special guest speakers, a tribute band concert and much, much more. Full convention details will be announced later this spring, but we wanted to make sure folks saved the date! ...
For all the details visit RushCon.org, and to keep up on all the latest RushCon news follow them on Facebook and Twitter.