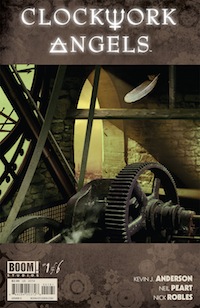 This past week in Rush-land we got a preview of the different covers for the upcoming Clockwork Angels graphic novel, the Clockwork Angels: The Watchmaker's Edition was nominated for an Audie Award, we learned that Neil Peart will be writing the foreword to an upcoming Gavin Harrison book, Alex Lifeson was spotted in a 5th grade classroom, Rush was featured in a special space rock issue of Shindig! magazine, and we compiled some reactions from around the web to the recent Walmart Working Man commercial. Boom! Studios released previews of 3 separate covers for the inaugural edition of the 6-part Clockwork Angels graphic novel series earlier today. You can check out the press release including the cover previews here. The graphic novel was written by Kevin J. Anderson with artwork by Nick Robles and will be released in a series of six beginning on March 19th. The first issue along with a complete 6-issue subscription are currently available for pre-order at the Boom! Studios website (Issue #1 for $3.99, 6-issue Subscription for $29.99). The paperback release of Clockwork Angels: The Novel will be available on May 13th and can be pre-ordered here.

The Audio Publishers Association announced the finalists for their 2014 Audie Awards (Audies) earlier this week and Rush's Clockwork Angels: The Watchmaker's Edition was nominated in the category of Package Design. The winners will be announced at the Audies Gala on May 29, 2014, at the New York Academy of Medicine in New York City. You can check out a complete list of the nominees and categories at this location. The Clockwork Angels: Watchmaker's Edition of the audiobook for Clockwork Angels: The Novel was released last March. The special package was designed by Hugh Syme and contains the seven CDs of the unabridged audiobook, a special booklet, a Clockwork Angels timeline, and an I can't stop thinking big mini poster, all packaged in a full-color WORKING clocktower. You can order one for yourself on Amazon here.
Porcupine Tree drummer Gavin Harrison announced via his Facebook page yesterday that he'll be releasing a new book that he co-authored with Terry Branum titled Rhythmic Composition: Featuring the Music of Porcupine Tree. The book contains twenty highly detailed transcriptions by Terry Branam and in-depth commentary from Gavin, along with over 40 great photos and a foreword by Neil Peart. Amazon has a release date of May 2nd listed and you can pre-order your copy here.
Alex Lifeson paid a visit to a 5th grade class at Toronto independent day school The York School this past Wednesday morning. The school posted the following along with this pic to their Twitter feed Wednesday:
Alex Lifeson speaking to our Grade 5 students @rushtheband @ibpyp @CAIS_Schools @CISOntario pic.twitter.com/syjtaot3uk
The January, 2014 issue of Shindig! magazine is a special edition focusing on the Space rock genre of music. The issue contains an article by Marco Rossi where he explores the notion of whether prog-rock pioneers Rush and Yes can be classified as space rock bands. John over at Cygnus-X1.net has transcribed the article and made it available online here. Rossi argues that despite Rush's many space-themed songs and lyrics, they probably shouldn't be considered as space rock.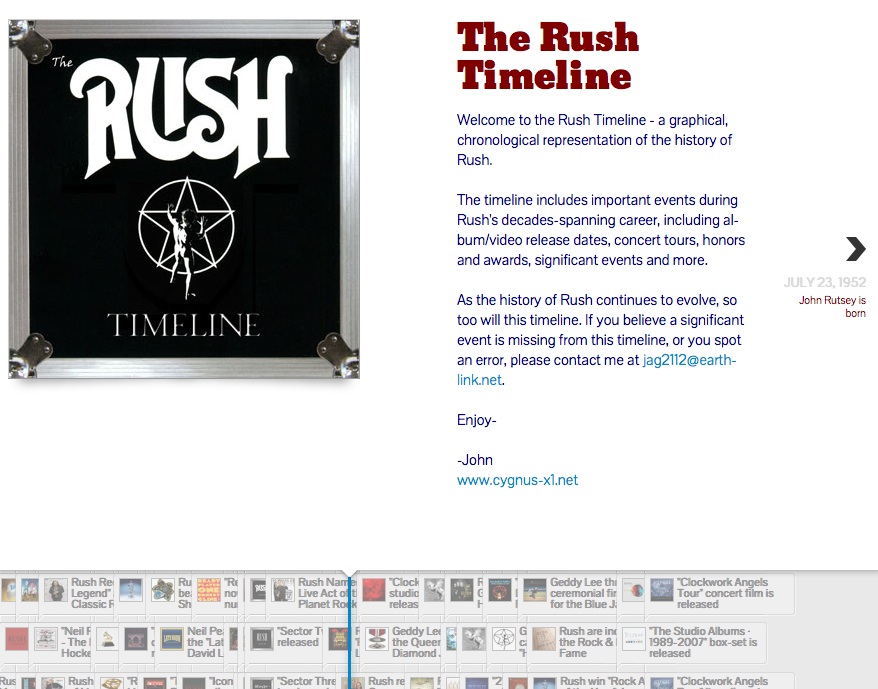 John over at the Cygnus-X1.net site launched his new Rush Timeline project earlier this week. It's a graphical, chronological and interactive timeline of Rush's decades-spanning history. While several Rush biographies, calendars and histories have been put together over the years, this is the first interactive timeline of the band's history ever created. In addition to pinpointing important events in Rush's long career, the Timeline also includes additional commentary, photos and videos; and it's easy and fun to navigate. Be sure to check it out here if you haven't already, and give John any feedback that you may have.
With Major League Baseball's spring training beginning this past week, I thought I'd report a couple of baseball-themed Rush news items. SB Nation posted an article (thanks Mars) earlier this week on how Houston Astros manager Bo Porter texts inspirational messages to his players every morning precisely at 6:45AM. They got their hands on a few of the texts and one has a Rush theme:
Porter: "If you choose not to decide you still have made a choice" - Albert Enstein

Anonymous Player: that is a rush song. it is literally 6:45 in the morning please stop
And MASN Sports posted an article this past Monday on how Washington Nationals manager Matt Williams places a lot of importance on music when developing routines in baseball, focusing specifically on walk-up music:
... Williams initially refused to choose a walk-up song in his playing days when that concept was brand new, saying that he didn't need one. Eventually, when team staffers persisted, Williams let teammate David Dellucci to pick his song for him - "Tom Sawyer," by Rush. "I enjoy something that's got a good beat to it, that I can hear the bass of it," Williams said. "Especially on the field, because ... classical, it's hard to get that rhythm. I don't know about hardcore rap, but something that's got the constant (beat), so that we can time things on the field." ...
Today is the 25th anniversary of the release of Rush's A Show of Hands concert video on VHS and Laserdisc. The concert was filmed at the National Exhibition Centre in Birmingham, England in April of 1988 on the band's Hold Your Fire tour. It was also released on DVD as part of the Replay X3 box set on June 13, 2006 and individually on May 1, 2007. The accompanying CD was released on January 9, 1989. Here's the video of Lock and Key which only ever appeared on the Laserdisc version:
One last note for all of you NetFlix subscribers; the Rush: Beyond the Lighted Stage documentary will be made available for streaming on NetFlix this coming Wednesday, February 26th. That's all for this week. Have a great weekend!!