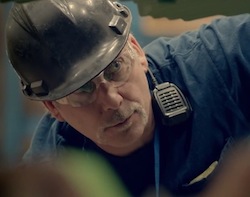 We've known for a couple of weeks now that US retail giant Walmart has been using Rush's Working Man in one of its commercials for a new ad campaign that aims to put the spotlight on the company's recent initiative to invest $250 billion over the next 10 years towards creating new manufacturing jobs in America. The ad has been getting more attention over the last several days due to it being shown during some major TV events including the Winter Olympics, Daytona 500 and the NBA All-star game coverage. Walmart has been the subject of a lot of criticism for their business practices over the past few years, so many fans and pundits are questioning whether giving Walmart permission to use the song was a good move for the band. An article running on the Scholars and Rogues website calls the move one of the biggest betrayals of trust in Rock history and features a Rush starman with the words SOLD OUT stamped on it, although most of the reaction focuses on the fact that Rush is a Canadian band, and the commercial is touting American workers. From the Daily Mail:
As the world's biggest retailer, you might think that Walmart would know a thing or two when it comes to marketing their powerful brand. Their new advert, set in an American factory, gloriously promotes the company's honorable All-American $250 billion pledge, to sell products made in the USA. The ad appears to be faultless in every regard until astute viewers realized that the song chosen to accompany the commercial, the 1974 hit Working Man, is by a Canadian band, Rush. ...
Both The Street (Dear Wal-Mart: Rush is Canadian) and Radar Online (Walmart's Epic Fail: Commercial Promoting Pro American Factories Uses Song By Canadian Band) make similar observations. The Daily Mail also asked Walmart about their choice of using Rush music and a company spokesperson defended the decision:
... WalMart have responded to comments that their choice of Rush to accompany the commercial was anti-American. 'We think American music is awesome too! We just think Working Man is a great song that reflects our commitment to help create more jobs for working men and women in U.S. manufacturing and to help get more American working men and women back to work.' The commercial was produced by Saatchi & Saatchi - their first ad campaign the agency has produced for Walmart ...
It's not the first time Rush's music has been used in a commercial for a major company. Back in 2012 Volkswagen released a commercial for the Passat which featured a man stopped at a traffic light rocking out to Fly By Night (watch it here). Although Volkswagen is hardly as controversial as Walmart so this commercial didn't receive nearly as much scrutiny or backlash, with fans generally giving their approval. So what do you think about Rush's decision to allow Walmart to use the song? Good move? Bad move? Take the poll and let us know. The ad in question is titled Working Man and depicts video of US factory workers while Rush's Working Man plays in the background. There are 60-second and 30-second versions of the commercial which you can check out on YouTube here.