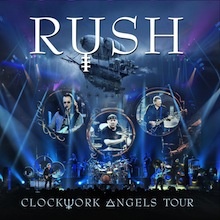 Voting has closed in the 2014 Ultimate Classic Rock Awards and Rush came away on top in 3 of the categories; Song of the Year (The Garden), Best Tour of 2013 (Clockwork Angels Tour), and Best Live Album of 2013 (Clockwork Angels Tour). From the Ultimate Classic Rock website:
... In the closest race in this year's awards, Rush's 'The Garden' took home Song of the Year honors, narrowly beating out Paul McCartney's 'Queenie Eye' by 37.4 percent to 36.8 percent. The song originally appeared on 2012′s 'Clockwork Angels,' but it qualified for this year's awards by virtue of a 10″ picture disc release on Record Store Day.

Their 'Clockwork Angels' tour netted them two awards. Again, they faced a strong challenge from Paul McCartney in the Best Tour of 2013 category, but prevailed with nearly 36 percent to McCartney's 28 percent. Fleetwood Mac's reunion was in third place with close to 16 percent.

And in the Best Live Album of 2013 category, the document of their Nov. 28, 2012 show in Dallas also beat McCartney, albeit a package from his first band. 'Clockwork Angels Tour' bested the Beatles' 'On Air: Live at the BBC Vol. 2' 44 percent to 37 percent. ...
Thanks to Travis B for the heads up.